Mezz Power Break DI II (T)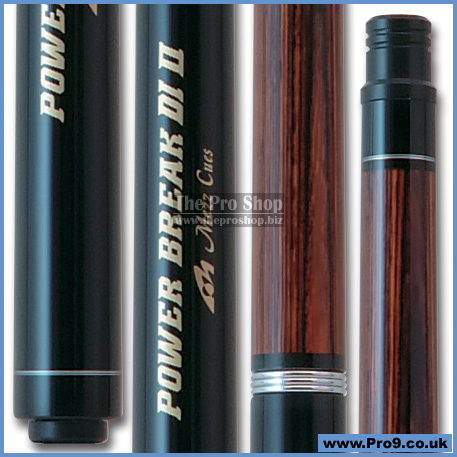 Mezz Power Break DI II (T)
Deep Impact Technology
The Power Break II - outstanding performance / exceptional styling
Revolutionary Deep Impact Technology in Power Breaks for the ultimate in breaking shot power and control.
DI Technology
is the Sonic tip / White fibre tip plate / Bakelite ferrule structure and the front end inner design that enhance the wider sweet spot on impact, for great power and accuracy.
Mezz own Sonic Tip
is engineered for the demands of the break, allowing better energy transfer and amplified power.
The White fibre tip plate
stretches and snaps back with energy transfer power.
The Bakelite ferrule
is strong and resistant to friction heat.
Try the Power Break with the Deep Impact shaft to increase your break ability.
United Joint
The patented, precision joint has a unique 5/16x14 pin that fits the two cue parts with unparalleled quality control standards. The perfect adherence between male and female parts enhances energy transfer and distributes that energy equally even on off-centre hits.

DI Technology
Combines a Sonic tip, White fibre tip plate, Bakelite ferrule and the front end designs to create maximum speed and control on breaking shots.

Composite Wood
The composite laminated wood is used for the Power Break which is impregnated with a phenolic resin that will increase cue power and accuracy.

2-Way Weight System
Aside from merely adjusting the weight bolt at the butt end, POWERBREAK II users can alter the balance point of the cue to suit their break stroke by adjusting the weight rings located in the front end of the grip, customizing the weight distribution to increase cue speed and maximise the power transmitted to the cue ball. (Note: The Power Break II comes with three weight rings. Please do not use more than five weight rings).
The "Power Break II"
was designed and manufactured for optimal shape, balance and with an innovative "Deep Impact Technology". By making the butt portion of the PBII approximately 4 inches (10.2 centimeters) shorter than the average break cue, Mezz has made it possible to reduce the amount of deflection and distortion that occurs at the time of impact. This keeps the power of the stroke from escaping and transfers it directly to the cue ball. In addition, Mezz has also developed and incorporated a unique weight adjustment system (2-Way Weight Balance System), whereby the weight and balance of the cue can be fine-tuned to suit the individual.
price: £441.91