Mezz AP-2 pro model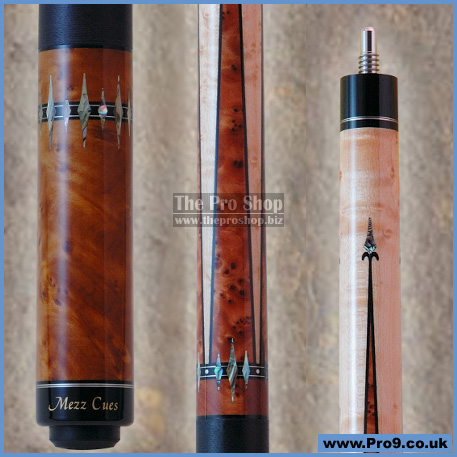 Mezz AP-2 professional model
(Please note : this cue is not the Alex Pagulayan model)
The AP-2 featuring exceptionally beautiful inlay combinations of Thuya burl and Birdseye maple with the Silver rings with Paua shell diamonds and Silver dots.
Key benefits:
- Rich taste design with Thuya burl, Paua shell diamonds and sliver dots.
- Mezz United Joint provides a solid feel for precision and performance.
- High performance Hybrid Pro2 shaft.
- Tapered core technology offering enhanced accuracy, longevity and solid feel.
- Interchangeable weight system allowing weight customization.
Specification
Tip: Moori (M)
Shaft: Hybrid Pro2
Joint: United Joint
Grip: Black Irish Linen wrap
Weight: 19~19.5oz
High demand for the first batch of 10 cues is already sold out. The next batch of these exquisite AP-2 models will be delivered in November 2012.
Contact us
for our best price offer.
price: £1335.00