Mezz Snooker Cue E2b Series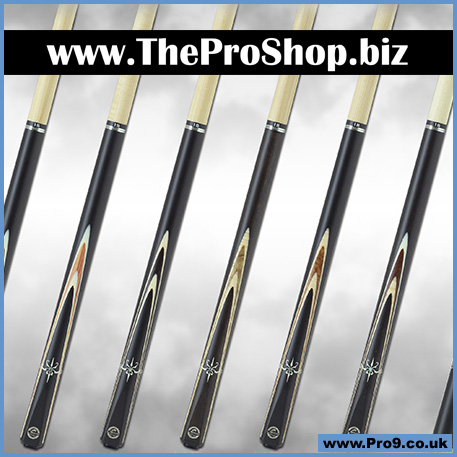 Mezz Snooker Cue E2b Series
Reinvented Classics
The Mezz SKR E2b snooker cue collection consists of 3/4 jointed cues paired with the V95 shaft, an unique adjustable 6 pie laminated maple shaft. The SKR E2b intricate design comprises of the different veneer combinations in the ebony butt making it aesthetically pleasing to the eye. The cue features a patented weight adjustable system in the ultra precise SKR United Joint while the 6 pie laminated shaft increases cue ball control effortlessly.
• Shaft: "V95" 6 Pie Laminated Maple Shaft
• Patented: Shaft Weight Adjustment System
• Shaft length: 1050mm or 1075mm
• Tip: Kamui Black M 9.5mm dia
• Joint: SKR United Joint
• Butt length: 400mm
• Weight: 18oz - 18.5oz
• Others: With 146mm Extension
Click here to view the full range (2.9Mb photo).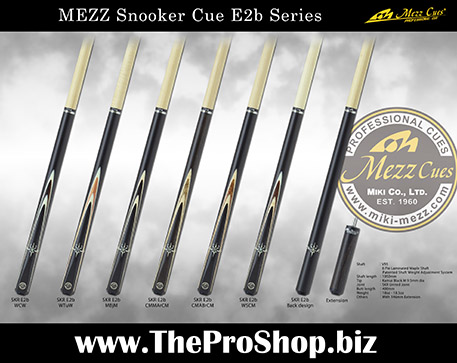 Click the above image to view the enormous poster (2.9Mb).
Mezz V95 Snooker Shaft
Ultimate Control and Flexibility
The V95 Snooker Shaft has shattered all boundaries in snooker by enabling a shaft to have more control and playability due to its unique design. The laminated six pie Maple Shaft features an adjustable weight bolt system inside the SKR United Joint to assist with finer tuning your positional game. With these innovative new features in one shaft, it will increase both accuracy and power in your game.
See full details - Mezz V95 Snooker Shaft
MADE IN JAPAN.
Pre-Order this item now, for delivery in our next stock shipment.

Price includes free shipping - anywhere in Europe!
price: £990.00