McDermott - G903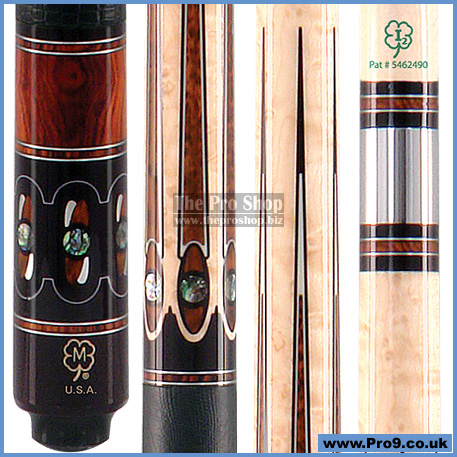 MCDERMOTT - G903
G-Series - Intimidator

McDermott cues and performance shafts are some of the most recognized products in the billiard industry. Manufactured in Menomonee Falls, WI, McDermott cues are known for quality construction, exotic woods, intricate inlays and limitless custom options. Leading the industry in technology and craftsmanship with over 100 new models ranging from $199-$6500, McDermott remains the top choice for all players. They are proudly made in the U.S.A. and include a lifetime warranty against warpage.

Features:
* Birdseye Maple forearm
* Recon Ebony sleeve
* Cocobolo/silver rings
* i-2 shaft
* McDermott Quick Release joint
* 6 Snakewood/Abalone/Recon Ivory points
* 6 Sets of Snakewood/Abalone/Pewter sleeve inlays
* Lizard-embossed Italian leather wrap

INTIMIDATOR i-SHAFTS
The Highest Performance in Shaft Technology

i-Shaft Construction
McDermott Intimidator shafts give players the freedom to change power and spin-rate to maximize the speed and accuracy of their shot. The patented i-Shaft system has identified the variable characteristics required in your game (Power, Control and Feel). Utilizing their proprietary Intimidator Carbon Energy (ICE) technology, they have designed the most radial consistent shaft to help maintain accuracy at all speeds.

Tenon Tip Technology
The i-Shaft Tenon Tip technology transfers energy from the tip into the carbon fiber core producing a solid hit that maximizes the speed and accuracy of your shot.

Radial Consistency
The G-Core and i-Shaft utilize McDermott proprietary triple-layer carbon fiber core technology to create the most radial consistent shafts on the market. Radial consistency is the ability to reproduce the same results regardless of the shaft orientation. This means the shaft will perform the same way on every shot. McDermott high-performance shafts consistently provide a straighter cue ball path, minimizing the need to compensate for spin and throw. The carbon fiber core stability combined with McDermott tri-core butt construction gives every cue a solid, consistent feel known throughout the industry as the "McDermott Hit."
price: £1060.00