McDermott - G602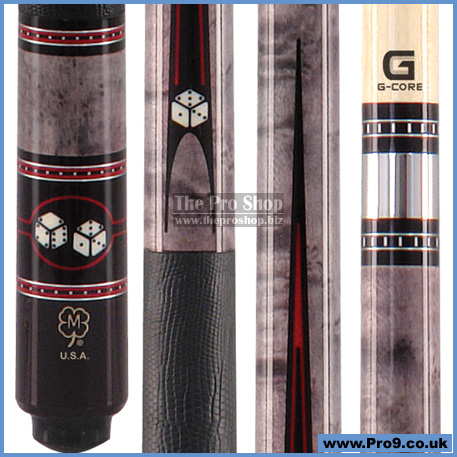 MCDERMOTT - G602
G-Series - with G-CORE

McDermott cues and performance shafts are some of the most recognized products in the billiard industry. Manufactured in Menomonee Falls, WI, McDermott cues are known for quality construction, exotic woods, intricate inlays and limitless custom options. Leading the industry in technology and craftsmanship with over 100 new models ranging from $199-$6500, McDermott remains the top choice for all players. They are proudly made in the U.S.A. and include a lifetime warranty against warpage.

Features:
* Birdseye Maple forearm/sleeve
* Titanium Grey stain
* G-Core shaft
* 3/8"-10 joint with stainless steel collar
* 3 Recon Ebony points with dice inlays
* 3 Sets of dice sleeve inlays
* Lizard-embossed Italian leather wrap

G-CORE SHAFT
High-Performance Shafts

G-Core Construction
The G-Core shaft technology significantly stabilizes the shaft with a triple-layer carbon fiber core at the front impact area of the shaft. G-Core technology increases shaft stability by 65%, promoting increased accuracy with enhanced radial consistency. The G-Core also utilizes our proprietary CT Technology: a carbon fiber ferrule core that results in greater strength, efficiency and precision.

Everest Tip by Tiger
Selected from the finest quality pig skins in the world, Everest Laminated Cue Tip is the most sophisticated, durable and advanced cue tip created. Each layer is carefully selected and split. From these splits only the ten most even and durable layers are chosen. By vacuum laminating with our own VACULAM™ process, Everest cue tip becomes the best laminated cue tip ever. Each Everest Laminated Cue Tip is individually tested for consistency, hardness and quality. Special red layer warns when to replace the tip. This cue tip shapes like a hard tip, hits like a medium and has a control like a soft tip.

CT Technology
Carbon fiber extends through the shaft wood and into the ferrule with an additional dampening device to reduce vibration. This results in a stronger ferrule assembly with maximum impact properties and enhanced feedback.

Triple-Layer Design
The G-Core's triple-layer design stabilizes the front impact area of the shaft, reducing vibration and minimizing shaft distortion. The carbon fiber layer increases radial consistency, promoting enhanced accuracy and stability.

Radial Consistency
The G-Core and i-Shaft utilize McDermott's proprietary triple-layer carbon fiber core technology to create the most radial consistent shafts on the market. Radial consistency is the ability to reproduce the same results regardless of the shaft's orientation. This means the shaft will perform the same way on every shot. McDermott's high-performance shafts consistently provide a straighter cue ball path, minimizing the need to compensate for spin and throw. The carbon fiber core's stability combined with McDermott's tri-core butt construction gives every cue a solid, consistent feel known throughout the industry as the "McDermott Hit."