McDermott - G1901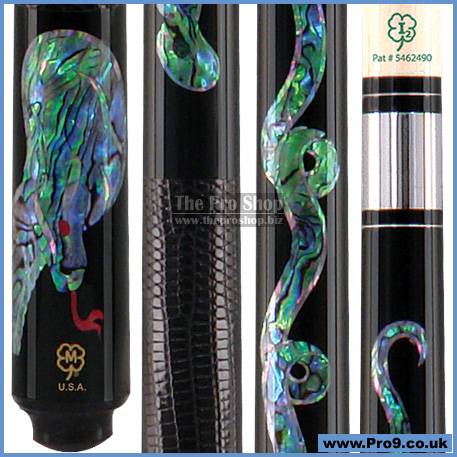 MCDERMOTT - G1901
G-Series - Intimidator

Showcase Series: Edition Size 50
McDermott's Showcase cues are painstakingly handcrafted with the finest woods and exotic materials. Precision detailing and intricate inlays result in a true work of art. Each cue exhibits McDermott's passion for building custom cues that are not only worthy of being on display at a museum, but built with same technology to run the table. Showcase cues come with a McDermott Certificate of Authenticity.

Features:
* Birdseye Maple forearm/sleeve
* Black Spies Hecker paint
* i-2 shaft
* McDermott Quick Release joint
* Custom Hand-cut Abalone Snake
* Genuine Monitor Lizard leather wrap

INTIMIDATOR i-SHAFTS
The Highest Performance in Shaft Technology

i-Shaft Construction
McDermott's Intimidator shafts give players the freedom to change power and spin-rate to maximize the speed and accuracy of their shot. The patented i-Shaft system has identified the variable characteristics required in your game (Power, Control and Feel). Utilizing their proprietary Intimidator Carbon Energy (ICE) technology, they have designed the industry's most radial consistent shaft to help maintain accuracy at all speeds.

Tenon Tip Technology
The i-Shaft's Tenon Tip technology transfers energy from the tip into the carbon fiber core producing a solid hit that maximizes the speed and accuracy of your shot.

Radial Consistency
The G-Core and i-Shaft utilize McDermott's proprietary triple-layer carbon fiber core technology to create the most radial consistent shafts on the market. Radial consistency is the ability to reproduce the same results regardless of the shaft's orientation. This means the shaft will perform the same way on every shot. McDermott's high-performance shafts consistently provide a straighter cue ball path, minimizing the need to compensate for spin and throw. The carbon fiber core's stability combined with McDermott's tri-core butt construction gives every cue a solid, consistent feel known throughout the industry as the "McDermott Hit."
price: £1245.99 - Special offer price: £1138.00
This product is no longer available