OB-1 Shafts with Uni-Loc Joints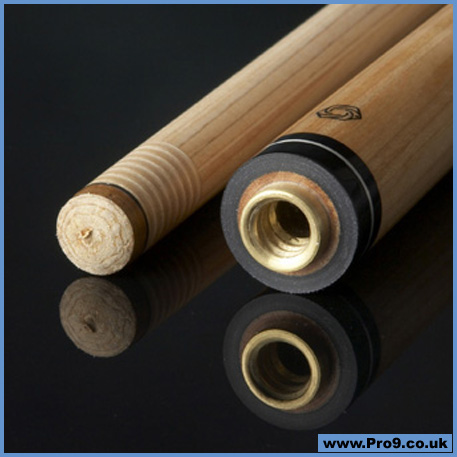 OB-1 Cue Shafts
"Cue Ball Deflection" is just part of the story
Why Should I Play With the OB-1?
You should play with the OB-1 because it is the best shaft on the market. The OB-1 shaft with a Tip Diameter of 12.75mm has the best combination of the four primary characteristics affecting shaft performance:
Low cue ball deflection


Good overall shaft feel


Exceptional playing consistency


Efficient cue ball spin
We all want to win more games. In order to win more games, we must miss less often. Playing with the OB-1 instills a strong feeling of confidence, and this is what is required to make more shots and win more games.
How does it do this? The thing that most players talk about is how good it feels, and how confident they are playing with it. When you play with equipment you trust to help you make more shots and get better position, you are more confident and win more games.
Straightness

Unlike "Pie piece" laminated shafts, our shaft is made up from six "stress relieved" segments. Each of these segments is made from straight grained laminated maple and machined in a manner that removes the internal stress to help insure the shaft is straight and stable. These six segments are then assembled into the shaft "blank" that is the start of the OB-1.


Radial Uniformity

Due to the unique construction of the "blank" for the OB-1, the shaft has extremely consistent stiffness no matter how you rotate it. Any Flat Laminated shaft is always stiffer in one direction than the other depending on how it is rotated. What this means for you is that you don't need to rotate the cue to put a mark on the top before you shoot.


Control

The taper on the OB-1 is longer than most cues. In a normal shaft, this leads to inconsistent cue ball control. Due to the stiffness of the unique construction of the OB-1, there is no whippy or inconsistent feel. Actually, the longer taper combined with this stiffness gives you the benefit of increased cue ball spin when you need it.


Feel

By far the most common comment we get when someone hits with the OB-1 is how good it feels. Good performance and good feel are no longer mutually exclusive. With the OB-1, you get the performance of low deflection combined with a shaft that feels like a real shaft should feel. Part of that comes from the fact that our shaft is not hollow on the end. The final 4 inches of our shaft is all wood, including the ferrule. The other part of it comes from the use of a high density, vibration dampening foam in the core of the shaft.
You haven't felt "solid" until you have hit with the OB-1 cue shaft.
Available NOW from The Pro Shop!
price: £199.99