Universal Pool Case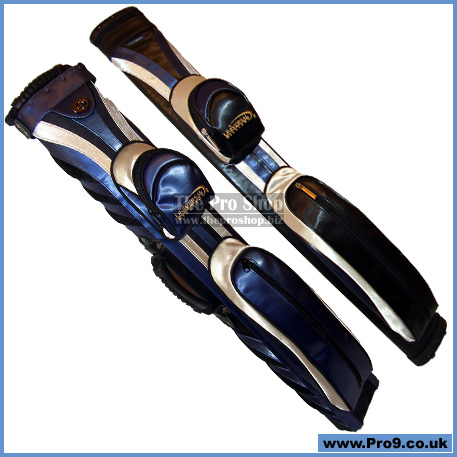 Universal Cue Case
3 butt and 5 shafts configuration.
1 butt and 2 shafts configuration.
Stunning "golf bag" inspired organic padded design.
Strong case construction finished with luxurious materials.
Two very generous sized pockets.
Strong web shoulder strap with sumptuous padding finish.
This magnificent design has been strongly influenced by the ergonomic styling of modern golf bags, and the transition has worked perfectly, the result being a sturdy case with a beautifully opulent finish.
This case is available in two sizes, the version displayed if the 3x5 configuration (3 Butts and 5 Shafts), and there is also a slightly smaller 1x2 version available, which is a very slim model with a tiny 1 Butt x 2 Shafts capacity, and whilst these are smaller and do not have the ribbed sides they are still almost identical.
Definitely one for the "cue case connoisseurs" who are looking for something attractive and unique, whilst still being sturdy and functional - this new design is a real beauty and we expect these to sell like hot cakes!
Due to the weight/size of this product free shipping is only available within the UK.
price: £153.99