The Tightest Pockets in the World
A Pro9 Report
Which tour or tournament has the meanest pockets?
Thursday 13 November 2008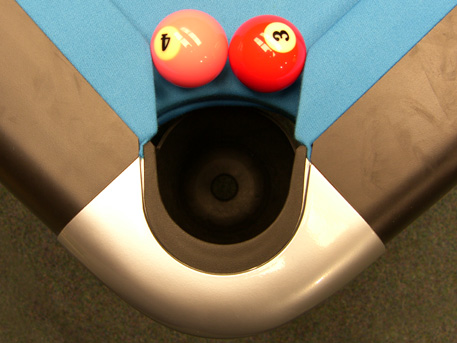 Matchroom Sport's World Cup of Pool - a team 9-ball event.
The pockets are so tight the balls make a "squeaking" sound as they go in!
Do the Pro's have it easy using only the best equipment?
Have you ever wondered how the pockets they're using at televised tournaments compare to the pockets at your local club.
Do they always seem bigger on TV? Is that why the Pro's rarely seem to miss? How can you tell?
Well, wonder no more, as Pro9 guides you through the minefield of myths about pro pockets, and shows you clearly how to compare them, like for like.

"Read More..." for the details.
We all know that the corner pockets are supposed to be four and a half inches wide and the side pockets half an inch wider, but have you ever measured the pockets at your club?
Sounds like a stupid question? Who is likely to have a ruler or tape measure at the pool club?
Well there is a clever way to measure without needing anything technical.
Each full size American Pool Ball is two and a quarter inches wide, so two balls placed side by side equal four and a half inches, exactly the same size as the aforementioned corner pocket.
Now you know why you always see a photograph of two balls choking a corner pocket in match reports.
Obviously the balls need to be the correct size, and this means good quality, new balls, as they do vary, and wear and tear actually reduces their size quite significantly.
So, have a look at these pictures and next time you play at your club, do a comparison.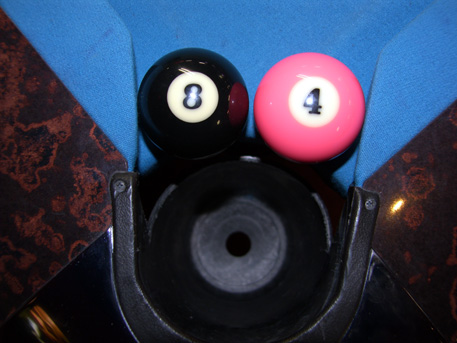 The very generous pockets on the average SAM K-Steel table in most Riley's Clubs.
This example is from the beautiful Rileys American Pool and Snooker Club in Liverpool.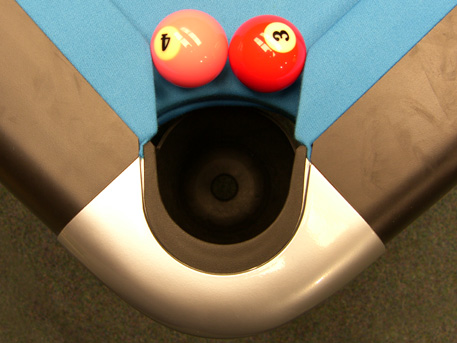 Matchroom Sport's 2006 World Cup of Pool - a team 9-ball event.
The pockets are so tight the balls make a "squeaking" sound as they go in!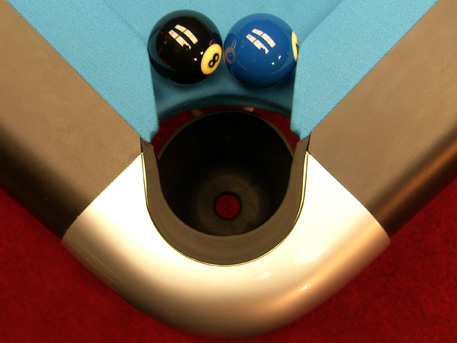 Matchroom Sport's 2007 World Pool Masters - even smaller.
Same table - tighter pockets. The going just got tougher in Amsterdam.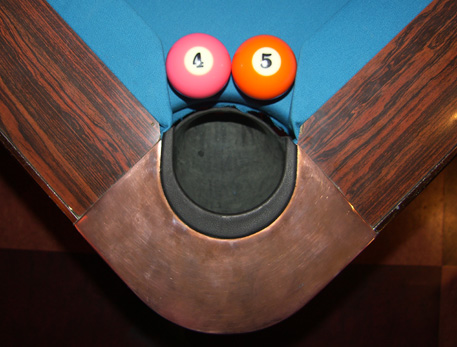 The Brunswick GC3 Challenge Table at Rileys Victoria.
Everyone knows how tight these pockets are, but surprisingly, they're not the tightest!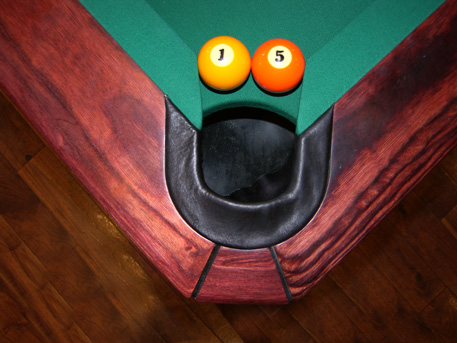 The International pool Tour Diamond Table.
Until recently, the tightest pockets I'd ever seen - see the inch of shelf behind the balls?
BUT NOW WE HAVE A CLEAR WINNER!!!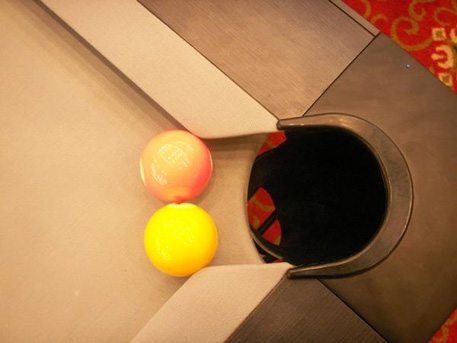 The XTM Asia 10 Ball Championships Table.
Clearly, these are the tightest pockets in the world - Unless you know better?
So, the challenge is laid down, if you know of an even tighter set of pockets take a photo of them and get it to me at the address below, by email or "snail" mail, and I'll credit you and the table here! No anecdotes, fables or legends though, everyone has a tall story to tell, but we need photographic proof please!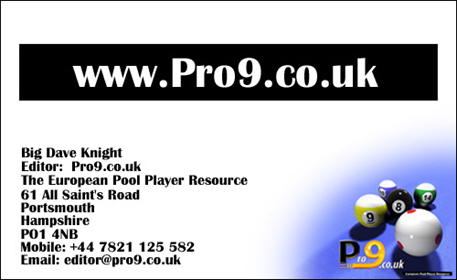 Here are some photos from Pro9'ers...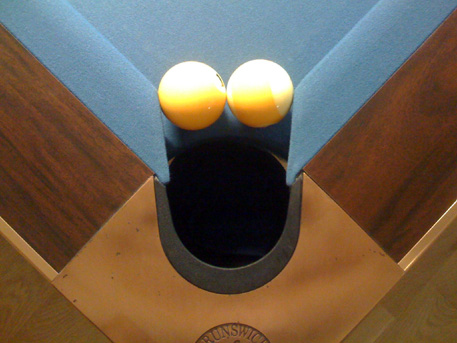 Not a pool club I know, but Jon Davies has sent a picture of his GCIV at home - nice.
Jon - send us a picture of the table at Rileys Yate which are two shims tighter.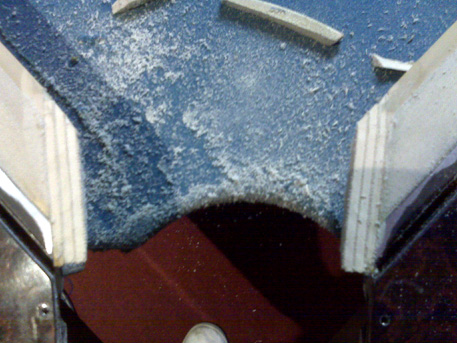 Now 2 photos from Lee Rigby, showing off the tight pockets on the Barnsley match table.
Here you can see the shims under construction - great photo Riggers, thanks!
Here's the finished article... The tightest table in UK by far is Barnsley's match table.
Darren Appleton's practice table - tighter than Victoria apparently!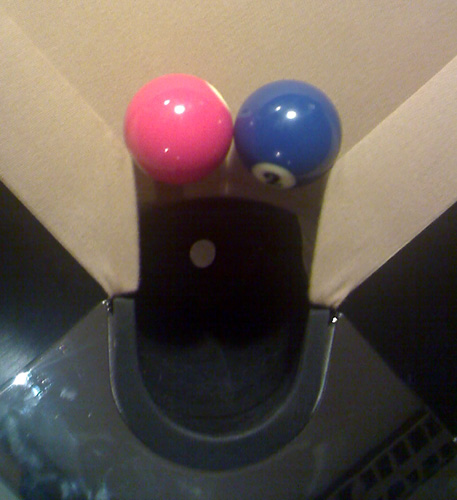 They're not scared of a tight pocket in the rest of Europe either.
Marc Vandeweyer from Belgium proves that with this photo of his home table.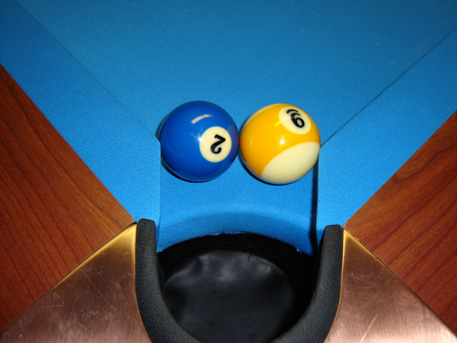 Belgium seems to be a hotbed of tight pockets as yet another Pro9'er adds a photo.
This time it's Serge Das, and a picture of his practice table at home - ouch, that's snug!
WOW - that's tight... Also the angle of the pocket facings seems closed ( like this /o and not open o/ like this)... When you compare the pictures you can see the difference quite clearly.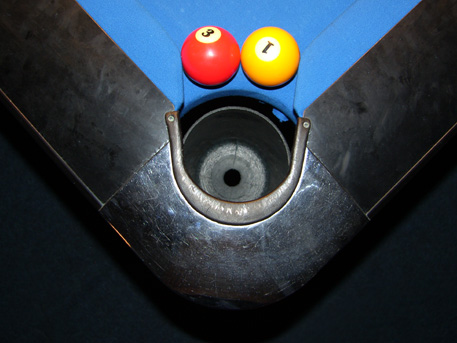 The match table at Mickey Flynns in Cambridge, England.
Actually, these pockets are quite generous.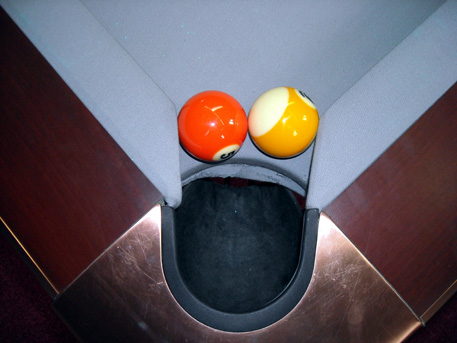 Now for a home table in Spain, and this is a real tough set of pockets!
Many thanks to Emilio Jofre Domenech for sending this photograph.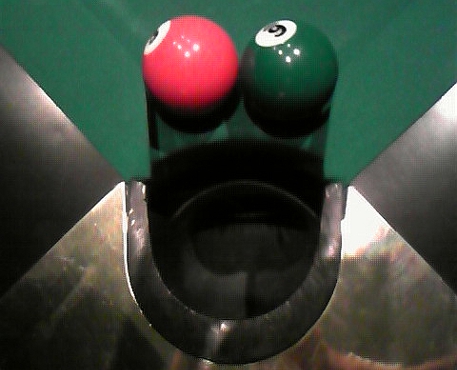 Just arrived, this shimmed Black Crown table in a popular pool club in Tokyo, Japan.
Thanks to Fred Ouellette (currently working in Japan) for taking and sending this photo.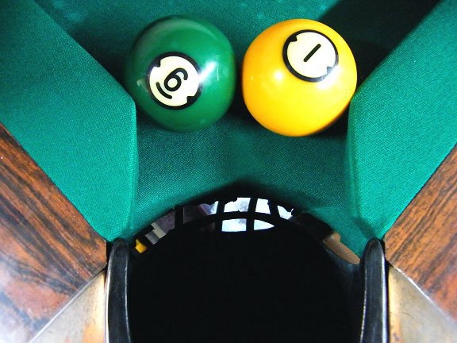 Started in 2008, now 2011 and I think fitters Oscar and Ernersto Dominguez have won!
Rex Goulet submitted this devilish 3 3/4 inch wide pocket from California.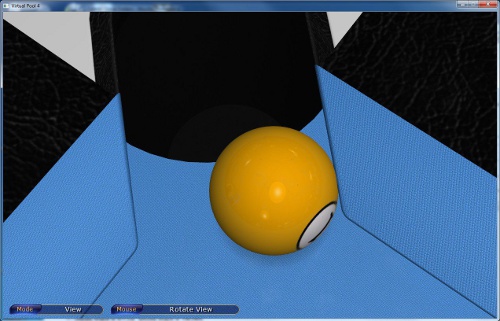 Not a "real world" pool table, but as we approach 2012 (over three years since I first started this article) computer games company Celeris, makers of the world renowned Virtual Pool franchise, have announced that the pockets for the upcoming VP4 will mimic the the current trend for more challenging tables, with a deeper shelf and tighter pocket combination for the new game. Although this isn't a real wood, metal and slate pool table, we think that the stature of this game in the history of billiards warrants at least an honourable mention here. Keep your eyes open for more announcements from Celeris about the much anticipated upgrade of this seminal pool simulation at VP4's official Facebook page here.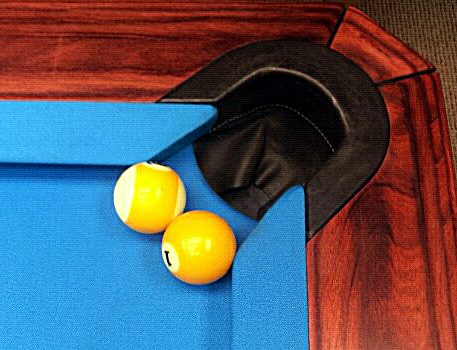 The new table is now in the TAR Studio. I think it might be tighter than the old one. Factory cut Diamond rails. On the spec sheet for pocket size it says "Tighter than a gnats ***"
January 2012 - www.theactionreport.com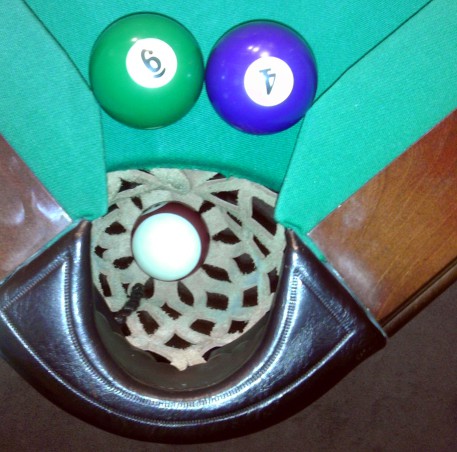 Thanks to Tony Rudi who sent this picture of his practice table in New Jersey... It's an Olhausen table with 5, yes FIVE shims - it's the tightest he's ever seen!
Submitted: February 2012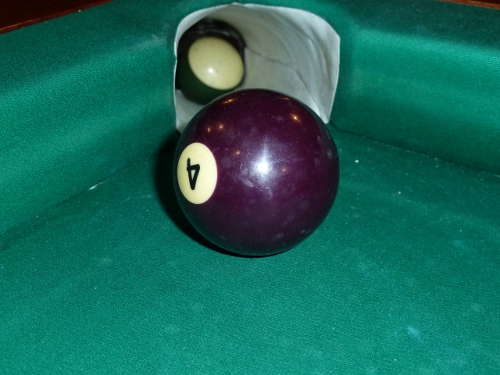 Discovered in a pool club in Verona, Italy by Thomas Behrendt, I'm really not sure what this is, but it certainly gets a place here... In fact, the set of six photos get's it's own forum thread here! Thanks for your submission Tom!
Submitted: February 2012
Thanks so much to everyone who sent me a photo - keep them coming!
Enjoy the article? Now try this...
View Pro9's front page!
Chat about this article in our forums.
Visit The Pro Shop to see new cues and gadgets.
Check out the Pro9.co.uk calendar for details of more events.