PartyPoker.net World Pool Masters 2008
Riviera Hotel & Casino
2901 Las Vegas Blvd, South
Las Vegas,
Nevada 8910909
USA
www.rivierahotel.com
www.playbca.com
www.worldpoolmasters.com
www.matchroomsport.com
Friday-Sunday 9-11 May 2008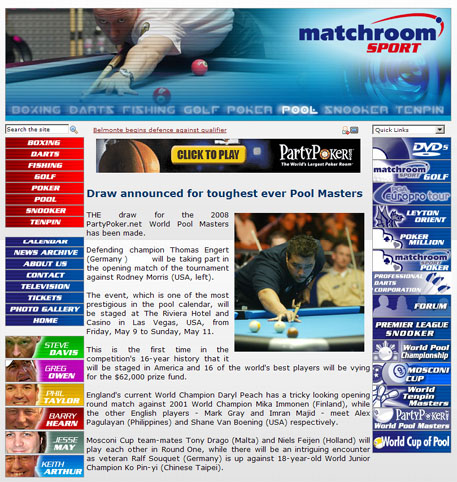 First Round Match-Ups Announced
MATCHROOM SPORT can announce the draw for the 2008 PartyPoker.net World Pool Masters which will be staged at The Riviera Hotel and Casino in Las Vegas, USA, from Friday, 9 to Sunday, May 11.
With 16 of the finest players in the world competing, there are no easy rides with eight race-to-eight, winner-breaks first round matches.
Defending champion Thomas Engert (Germany) will open proceedings as he squares up against Rodney Morris (USA) one of the three Americans in the field.
"Read more" for the details.
PARTYPOKER.NET WORLD POOL MASTERS 2007

THE LAST 16

Thomas Engert (GER)

0 : 0

(USA) Rodney Morris

Mark Gray (ENG)

0 : 0

(PHI) Alex Pagulayan

Francisco Bustamante (PHI)

0 : 0

(ITA) Bruno Muratore

Imran Majid (ENG)

0 : 0

(USA) Shane Van Boening

Ralf Souquet (GER)

0 : 0

(TPE) Ko Pin-Yi

Tony Drago (MLT)

0 : 0

(NED) Niels Feijen

Corey Deuel (USA)

0 : 0

(GER) Christain Reimering

Mika Immonen (FIN)

0 : 0

(ENG) Daryl Peach
PARTYPOKER.NET WORLD POOL MASTERS 2007

THE QUARTER FINALS

---

0 : 0

---

---

0 : 0

---

---

0 : 0

---

---

0 : 0

---
PARTYPOKER.NET WORLD POOL MASTERS 2007

THE SEMI FINALS

---

0 : 0

---

---

0 : 0

---
PARTYPOKER.NET WORLD POOL MASTERS 2007

THE FINAL

---

0 : 0

---
This is the first time in the competition's 16-year history that it will be staged in the USA and the players will be competing for a $62,000 prize fund, with the winner receiving $20,000.
US Open winner Shane Van Boening faces experienced former Mosconi Cup player Imran Majid of England , while Corey Deuel is up against Euro Tour veteran Christian Reimering of Germany.
England 's current World Pool Champion Daryl Peach has a tricky looking opener against 2001 World Champion Mika Immonen ( Finland ), while countryman Mark Gray, the European No.1, faces a daunting prospect against the classy Alex Pagulayan.
Mosconi Cup team-mates Tony Drago (Malta) and Niels Feijen (Holland) will play each other in Round One, while there will be an intriguing encounter as five-times Masters champion Ralf Souquet (Germany), meets 18-year-old World Junior Champion Ko Pin-yi of Taiwan.
The final opening round match will see Filipino legend Francisco Bustamante meet Bruno Muratore of Italy .
"I believe this is the highest quality field that we have had in the Masters and looking at the first round matches, it is impossible to pick eight winners." said a spokesman for event promoters Matchroom Sport.
"All the players will have to be at the very top of their games to progress and we are all looking forward to some exciting matches over three days of intense competition."
On the Friday evening the World Pool Trickshot Masters will be taking place at the same venue with six leading players entertaining the crowd with a variety of tricks and stunts.
Tickets & Session Times
Friday 1pm : $10 - general admission, $25 - VIP
Friday 7pm : $5 - general admission, $10 – VIP (World Pool Trickshot Masters)
Saturday 1pm : $10 - general admission, $25 – VIP
Saturday 7pm : $10 - general admission, $25 – VIP
Sunday 1pm : $15 - general admission, $30 - VIP
Sunday 7pm : $20 - general admission, $40 - VIP
All tickets are available from: www.playbca.com
The 2008 PartyPoker.net World Pool Masters - The Players
1. Francisco Bustamante ( Philippines )
2. Corey Deuel ( USA )
3. Tony Drago ( Malta )
4. Thomas Engert ( Germany )
5. Niels Feijen ( Holland )
6. Mark Gray ( England )
7. Mika Immonen ( Finland )
8. Ko Pin-yi (Chinese Taipei)
9. Imran Majid ( England )
10. Rodney Morris ( USA )
11. Bruno Muratore ( Italy )
12. Alex Pagulayan ( Philippines )
13. Daryl Peach ( England )
14. Christian Reimering ( Germany )
15. Ralf Souquet ( Germany )
16. Shane Van Boening ( USA )
RELATED ARTICLES AT WWW.PRO9.CO.UK2008
PartyPoker.net World Pool Masters 2008 - Draw announced
Final Names Added to Starting Line Up
2008 PartyPoker.net World Pool Masters Announced2007
TV Schedules for the PartyPoker.net World Pool Masters 2007PartyPoker.net World Pool Masters 2007Challenge the Champions! Side Event - World Pool Masters 2007WIN TICKETS AND HOTEL ACCOMMODATION!!!WIN FREE TICKETS to the PartyPoker.net World Pool MastersPartyPoker.net World Pool Masters - TicketsDraw announced for PartyPoker.net World Pool Masters 2007Players announced for 2007 World Pool Masters