2017 WPA World 9-Ball Championships
Qatar Billiards & Snooker Federation
Al-Arabi Sports Club
Al Shaab Street
Doha
Qatar
www.qbsf.qa
-
facebook
www.alarabi.qa
www.wpa-pool.com
-
Twitter
-
facebook
www.youtube.com
- livestream
www.esnooker.pl
- livescore
Saturday 9 - Friday 15 December 2017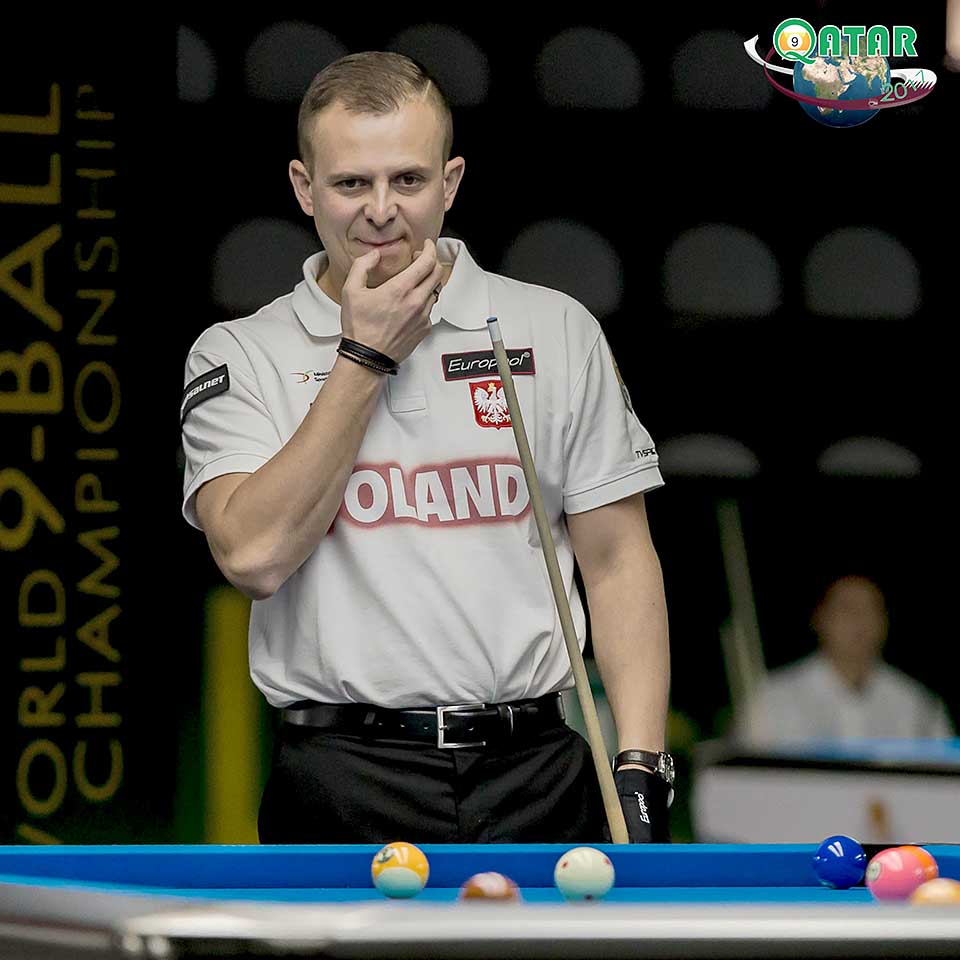 Mateusz Sniegocki of Poland
Click the image to view the full size photograph (use "back" to return here)
The final 64 single elimination field is set for a sprint to the World 9-ball crown.
It's time to get down to the serious business end of things in Doha, as the field of 128 has been cut in half after three days of group play at the 2017 World 9-ball Championship. From here the remaining 64 players will engage in a three day sprint to pool's most prestigious title. Whoever wins six straight matches will be crowned the new WPA World 9-ball Champion on December 14th.
There was no escaping the tension on Monday inside the cavernous Al Arabi Sports Club as all 32 matches played were do-or-die. "Judgment Day" as it's known in pool circles always brings out the drama as players, many of them who could just as easily find themselves lifting the title, scramble for their pool playing lives trying to escape the always dreaded group stages. One single roll of the ball could spell the difference between total disaster and a life changing run at glory.
Myanmar's Maung Maung is not one player pool fans would expect to be a serious contender over the next few days. But the 23 year old ex-snooker player, who has lived and practiced in Beijing, China for the last three years, certainly turned some heads yesterday with a scintillating performance against the Philippines talented Johann Chua. Chua, who recently won the All Japan Championship in Osaka a few weeks back, is one Filipino player many fans thought might make a run at the title this year. But the sharp shooting Pinoy never had a chance as Maung cruised to an impressive 9-3 win. It's the first time in the history of the World 9-ball Championship that a player from Myanmar has made it to the knockout rounds.
Die hard Filipino fans need not worry, however, as seven other Pinoys passed the grade and made it through to the knockout rounds. On Monday, veteran Warren Kiamco, Roland Garcia, and Qatar based Israel Rota and Francisco Felicilda all won handily to punch their tickets to the Final 64. There they'll join Carlo Biado, Jeffrey De Luna and Jeffrey Ignacio in the quest for pool glory. A Filipino has not won the World 9-ball Championship since legend Francisco Bustamante pulled off the feat here in Doha in 2010.
In terms of numbers via country, the Taiwanese are the clear winners at this point. 10 Taiwanese make up the final 64, including world number one Chang Jung Lin, and 2015 World 9-ball Champion Ko Pin Yi. The pressure of Judgement Day certainly didn't affect the Taiwanese as four players made it through including Lo Li Wen, Nien Rong Chih, Hsieh Chia Chen and Yu Li Si. The only Taiwanese player not to make it through yesterday was Cheng Yu Hsuan, who just happened to be up against a compatriot, Lo Li Wen.
The Polish side has been quietly putting in a stellar performance in this year's championship with six Poles qualifying for the final 64. On Monday, players from Poland stepped up big time, going 4-1 for their best performance perhaps ever.
Winners included Mateusz Sniegocki, Mieszko Fortunski, Wojciech Szewczyk, and Wiktor Zielinski. Zielinkski, it should be noted, is just 16 years old and is one of the rising stars on the European pool playing circuit, having recently won a Euro Tour event.

Share this article on FaceBook
"Read More..." for the details.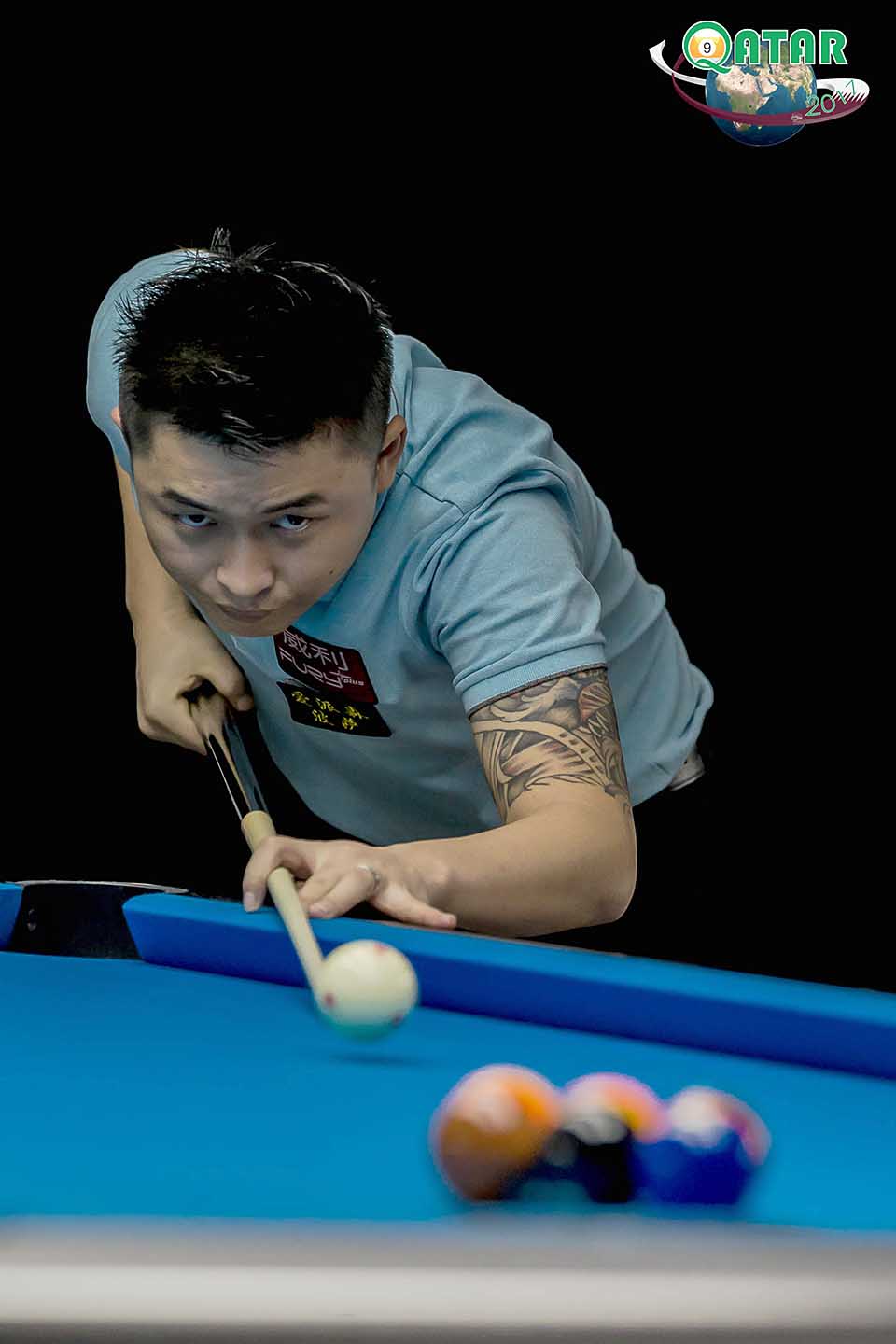 Maung Maung of Myanmar
Click the image to view the full size photograph (use "back" to return here)
The Chinese team also cashed in their chips on Monday with four out of six winning and going through. Team China will have 5 players competing for the title starting today. One noted player who will not be among them, however, is former World 9-ball Champion, Wu Jiaqing. Wu fell to 21 year old Swede Daniel Tangudd, 9-5 and was eliminated from the event.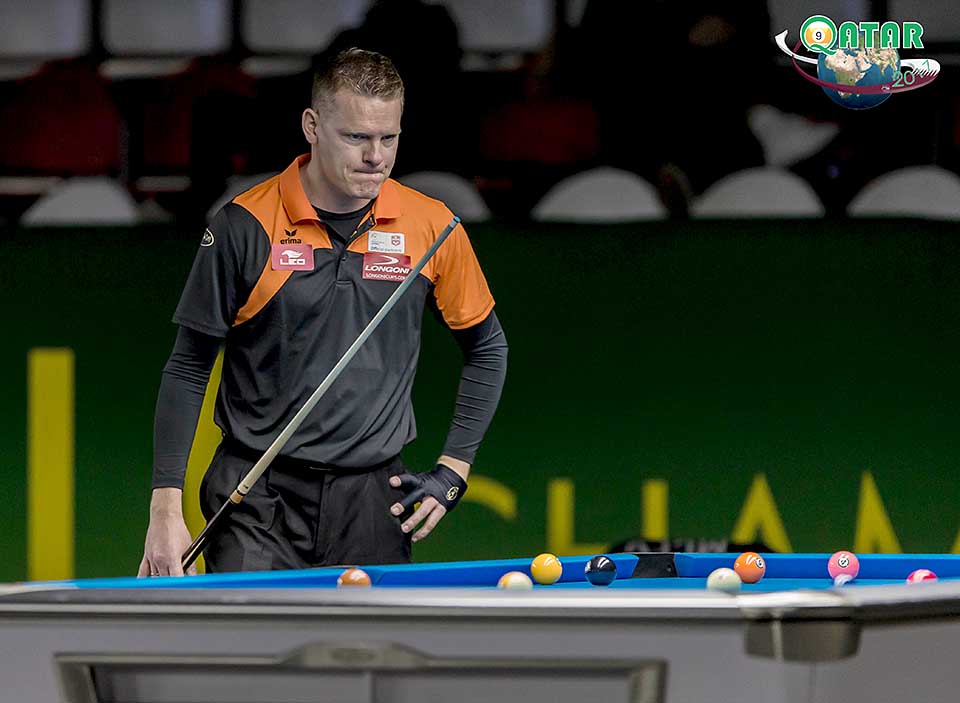 Niels Feijen of the Netherlands
Click the image to view the full size photograph (use "back" to return here)
Prominent Europeans who made it through on Monday include two time World 9-ball Champion Thorsten Hohmann of Germany, 2015 World 9-ball Champion Niels Feijen, Spain's David Alcaide, and Russia's Ruslan Chinakhov.
One player that seems to have caught the eye of many fans around the world is Canada's John Morra. Two years ago Morra was a definite rising star in the pool world, and proved it by reaching the quarterfinals at the World 9-ball Championship in Doha in 2015. Morra then briefly stepped away from the game only to return with a renewed hunger for the winner's circle. Several months back he won the Canadian 9-ball championship which won him a paid trip to Doha.
Yesterday, Morra took down Argentina's Arial Castro, 9-6, to advance to the knockout rounds. Nobody in the pool world would be surprised if the talented Canadian makes some serious noise over the next few days.
"Today I played pretty well," a refreshed looking Morra said after qualifying. "I'm over the jet lag and I feel pretty well. The last few months I've been playing really well. I've been traveling all over the US. I got in some big money matches. I got the hunger back. I had lost it last year. I didn't feel like playing the game. I had problems in my neck and I was stressed. I'm an emotional player. But right now I feel great and I'm motivated. I feel I can go all the way."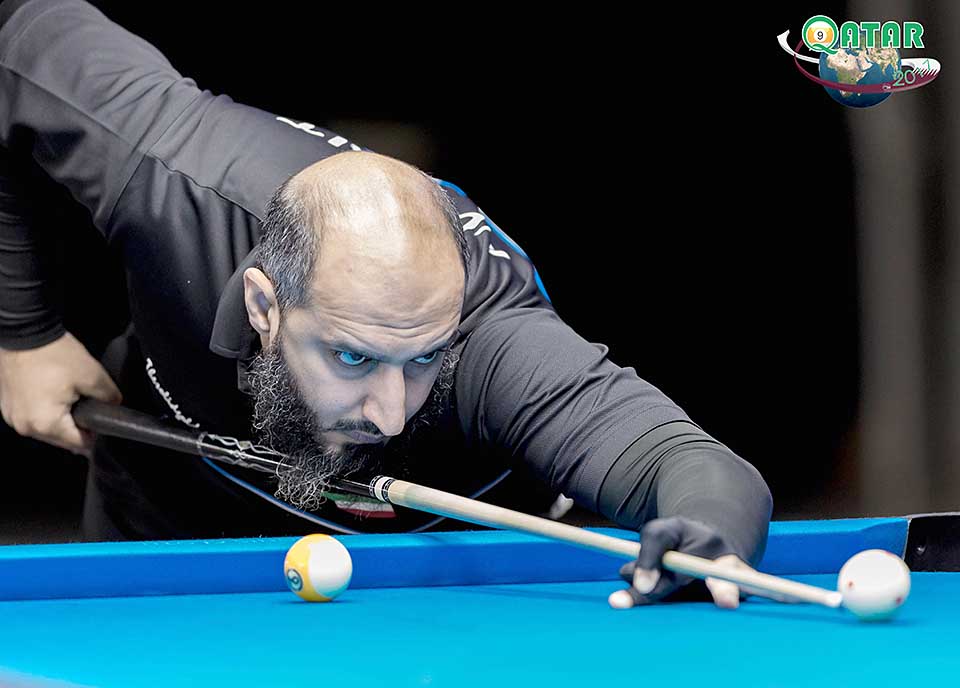 Abdullah Alyusef of Kuwait
Click the image to view the full size photograph (use "back" to return here)
Play in the round of 64 begins at 10am Doha time(GMT +3.) The round of 64 and 32 will be played today, with 16 players remaining at the end of the three sessions.
All matches will be race to 11, alternate break. The final on Thursday will be a race to 13, alternate break.
---
Results Day 3
All Matches Do or Die

Group 1
Mateusz Sniegocki(POL) 9 – 3 Jorge Llanos(ARG)
Francisco Felicilda(PHI) 9 – 1 Takhti Zarekani(IRA)

Group 2
Mieszko Fortunski(POL) 9 – 7 Hassan Zeraatgar(IRA)
Maung Maung(MYA) 9 – 3 Johann Chua(PHI)

Group 3
Bader Alawadhi(KUW) 9 – 7(KOR)
Woo Seung Ryu(KOR) 9 – 5 Muzammil Hussain(QAT)

Group 4
Dang Jinhu(CHN) 9 – 0 Majed Alazmi(KUW)
Warren Kiamco(PHI) 9 – 6 Teck Goh Chin(SIN)

Group 5
Niels Feijen(NED) 9 – 6 Fawaz Al Rashedi(KUW)
Wojciech Szewczyk(POL) 9 – 7 Luu Minh Phuc(VIE)

Group 6
Kong Dejing(CHN) 9 – 5 Han Haoxiang(CHN)
Ahmad Naiem(JOR) 9 – 8 Damianos Giallourakis(GRE)

Group 7
Roland Garcia(PHI) 9 – 6 Mohammad Berjawi(LEB)
Maksim Dudanets(RUS) 9 – Yukio Akagariyama(JPN)

Group 8
Lo Li Wen (TPE) 9 – 6 Cheng Yu Hsuan (TPE)
Wiktor Zielinski(POL) 9 – 8 Mario He(AUT)

Group 9
Nien Rong Chih (TPE) 9 – 8 Mohammadali Pordel(IRA)
Hsieh Chia Chen(TPE) 9 – 3 Fedor Gorst(RUS)

Group 10
Ruslan Chinakhov(RUS) 9 – 5 Ali Alobaidli(QAT)
Nguyen Anh Tuan(VIE) 9 – 7 Ralf Souquet(GER)

Group 11
Chu Bingjie(CHN) 9 – 1 Waleed Majid(QAT)
Hiroshi Takenaka(JPN) 9 -8 Sebastian Ludwig(GER)

Group 12
Md Al Amin(BAN) 9 – 0 Mhanaa Alobaidli(QAT)
David Alcaide(ESP) 9 – 5 Henrique Correia(POR)

Group 13
Xu Xiao Cong(CHN) 9 – 8 Denis Grabe(EST)
Samuel Santos(POR) 9 – 4 Richard Halladay(RSA)

Group 14
Yu Li Si(TPE) 9 – 6 Abdulkhizar Hasanin(IRQ)
Thorsten Hohmann(GER) 9 – 7 Petri Makkonen(FIN)

Group 15
Daniel Tangudd(SWE) 9 – 5 Wu Jiaqing(CHN)
John Morra(CAN) 9 – 6 Ariel Castro(ARG)

Group 16
Israel Rota(PHI) 9 – 4 Andre Lackner(GER)
Abdullah Alyusef(KUW) 9 – 3 Konrad Juszczyszyn(POL)
The 2017 WPA World 9-ball Championship takes place at the Al Arabi Sports Club Sports Club in Doha, Qatar from December 5-15,2017 The qualifying stages run from Dec. 5-7, while the main draw of 128 players runs from Dec 9-15. The winner of the 2015 World 9-ball Championship will receive $30,000. The runner up will receive $15,000. The total prize fund is $200,000.
Fans around the world will be able to view many of the matches via the QBSF's free live streaming platform. Multiple tables will be available to view online at no charge to the public. The WPA will provide more information regarding the live stream in the coming days.
The players will compete on Wiraka DYNASTY Tables with Simonis 860 Cloth, Electric Blue Color and using Aramith Tournament Pro cup TV Pool Balls featuring the new Duramith Technology.

The 2017 World 9-ball Championship is hosted by The Qatar Billiard and Snooker Federation(QBSF), and was sanctioned by the The World Pool Billiard Association, the governing body of the sport of pool.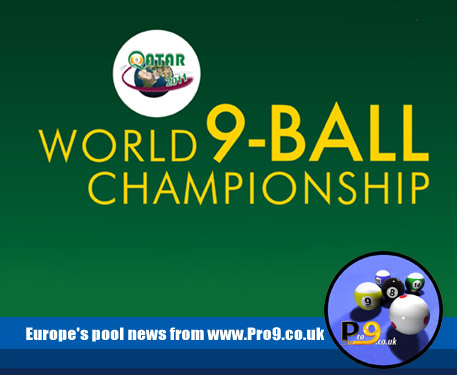 2017 WPA WORLD 9-BALL CHAMPIONSHIPS

DOHA - QATAR

THE PRIZE FUND

1st

$ 30,000

2nd

$ 15,000

3rd ~ 4th

$ ???

5th ~ 8th

$ ???

9th ~ 16th

$ ???

17th ~ 32nd

$ ???

33rd ~ 64th

$ ???

65th ~ 96th

$ ???

TOTAL PRIZE FUND = US $200,000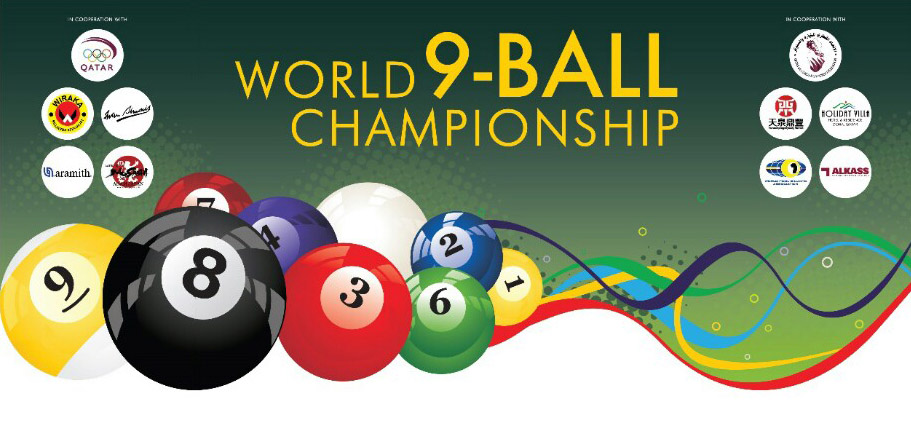 WPA WORLD 9-BALL CHAMPIONSHIPS

THE WINNER'S LIST

1990 - 2017

1990

Earl Strickland

USA

1991

Earl Strickland

USA

1992

Johnny Archer

USA

1993

Fong-Pang Chao

TPE

1994

Takeshi Okumura

JPN

1995

Oliver Ortmann

GER

1996

Ralf Souquet

GER

1997

Johnny Archer

USA

1998

Kunihiko Takahashi

JPN

1999

Nick Varner

USA

1999

Efren Reyes

PHI

2000

Fong-Pang Chao

TPE

2001

Mika Immonen

FIN

2002

Earl Strickland

USA

2003

Thorsten Hohmann

GER

2004

Alex Pagulayan

CAN

2005

Chia-Ching Wu

TPE

2006

Ronnie Alcano

PHI

2007

Daryl Peach

GBR

2008

*Not held

---

2009

*Not held

---

2010

Francisco Bustamante

PHI

2011

Yukio Akakariyama

JPN

2012

Darren Appleton

GBR

2013

Thorsten Hohmann

GER

2014

Niels Feijen

NED

2015

Ko Pin Yi

TPE

2016

Albin Ouschan

AUS

2017

---

---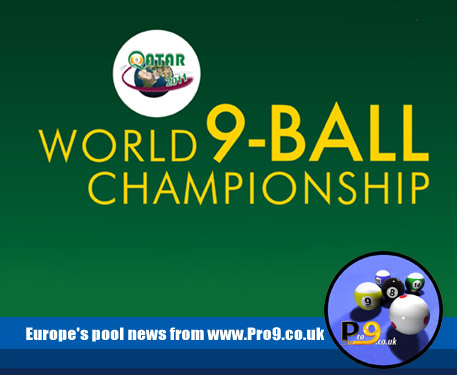 Enjoy the article? Now try this...

Chat about this tournament in our forums.
Visit The Pro Shop to see what's new in cues and gadgets.