The French Open by Predator
Replay Billard
6 rue des Moines St Martin
94360 Bry-sur-Marne
France
www.replay-billard.fr
www.ebilliard.tv
www.billiardport.com
- scoring
Saturday-Sunday 4/5 November 2017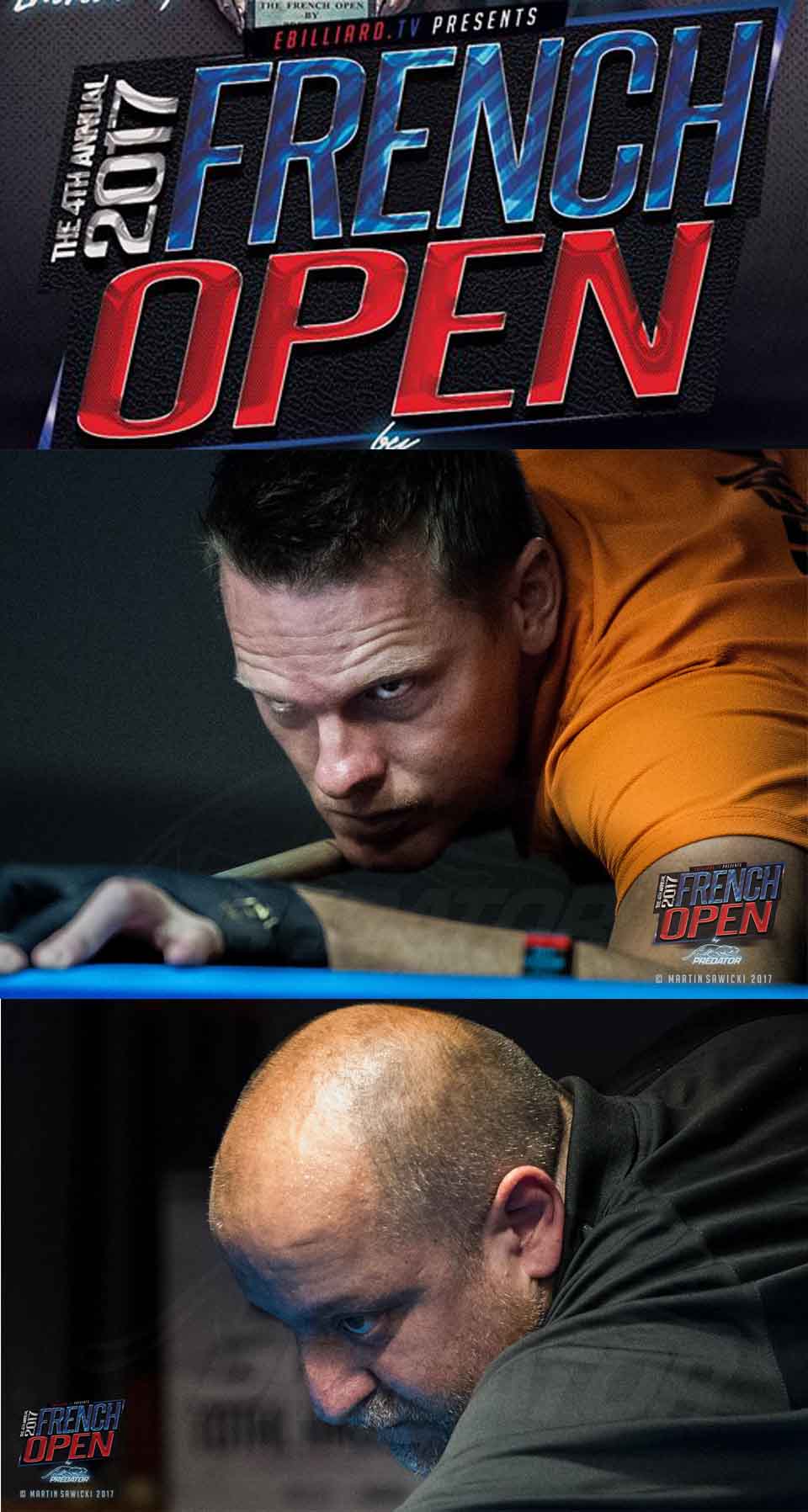 Click the image to view the full size poster (use "back" to return here)
Feijen claims maiden French Open
Niels Feijen powered through to win the 4th edition of the annual French Open by Predator last night at Replay Club. The Dutchman strung together seven victories over the course of two days to take the title, prevailing 11-9 over Stephan Cohen in an exciting final.
It was not all plain sailing for The Terminator in Paris, with several of his matchups decided by just one or two racks, but he showed great determination and mental strength to get the win each time.

Share this article on FaceBook
"Read More..." for the details.
Click the image to view the full size poster (use "back" to return here)
Single-elimination stage results
Last 16
Marc Bijsterbosch 9 (9) 8 Tim Jonkman
Regli Ronald 9 (9) 5 Aziz Hamrah
Niels Feijen 9 (9) 6 Alain Da Costa
Ivo Aarts 9 (9) 3 Barry French
Alex Montpellier 4 (9) 9 Jeffrey Nieuwenhuijzen
Huidji See 3 (9) 9 Fabio Rizzi
Tim De Ruyter 5 (9) 9 Stéphan Cohen
Carlos Cruz 2 (9) 9 Fabrice Scalia
Quarter-finals
Marc Bijsterbosch 7 (9) 9 Regli Ronald
Niels Feijen 9 (9) 7 Ivo Aarts
Jeffrey Nieuwenhuijzen 4 (9) 9 Fabio Rizzi
Stéphan Cohen 9 (9) 2 Fabrice Scalia
Semi-finals
Regli Ronald 8 (9) 9 Niels Feijen
Fabio Rizzi 6 (9) 9 Stéphan Cohen
Final
Niels Feijen 11 (11) 9 Stéphan Cohen
Click the image to view the full size poster (use "back" to return here)
The Terminator prevails in thrilling finale
After battling his way through the tougher side of the single elimination draw, Feijen looked to be making easy work of the final as he led from the front. Cohen, on the other hand, made some uncharacteristic errors, including a miss on a regulation 9-ball, and quickly found himself several racks behind.
With Feijen on the hill at 10-5, the fat lady was warming up her vocal chords, but there was still time for a few more twists in the tale. Cohen had nothing to lose and started to bring out the best of his shotmaking and tactical play. Meanwhile, Feijen couldn't get any results on the break and the tide seemed to be turning.
Rack 18 was easily the longest of the final, with both players taking turns at missing the 2-ball. A long safety battle ensued and eventually Cohen looked to have his opponent in a tricky situation with the cue ball close to the 8 at the top of the table. Feijen was however able to answer with a strong kick shot and a favourable roll left Cohen snookered. Unperturbed, the Frenchman pulled out his jump stick and made a spectacular pot, before confidently running out the remaining balls to make the score 10-8.
He took one more rack on Feijen's break and made a ball when breaking himself in the following rack. It was nonetheless an illegal break, as not enough balls passed the headstring. Feijen stepped up to the table with all balls makeable and a shot on the 1-ball. This time, he would make no mistake and successfully negotiated the runout to become French Open champion
Those who stayed until the end of the final at nearly 2 a.m. local time could tell how much it meant to Feijen, as he let out a cry of "Come on!" after sinking the winning 9-ball. Referring to the injury setbacks he has encountered this year,
Feijen later wrote on his official Facebook page "Most of all I conquered myself this event. Injury had left a scar and it was mega satisfying to play through all the trashy feelings, kick the monkey off my back and be back on track." No doubt The Terminator will be challenging for further titles in his upcoming tournaments and further on in 2018.
Click the image to view the full size poster (use "back" to return here)
Impressive showings by Ronald Regli and local boy Fabio Rizzi
Other noteworthy performances at the 2017 French Open by Predator included losing semi-finalists Ronald Regli and Fabio Rizzi. Fresh from taking part in the mixed doubles charity match in association with Kamui Brand on the eve of the tournament, Regli advanced comfortably through the winner's side bracket and eliminated previous French Open finalist Marc Bijsterbosch at the quarter final stage. He then went toe-to-toe with Feijen in their semi-final, with only a final-rack decider separating the two players.
RIzzi was the young hope of the local fans, having played at Replay Club for several years. At just 20 years of age, he has a consistent record at national level and took part in his first men's European Championships this year. He ousted former 10-ball world champion Huidji See 9-3 at the last 16 stage and was well placed at 5-1 up in the semi final against fellow countrymen Cohen, before losing momentum and going down 9-6.
The prize for the best placed ladies player was awarded to Yini Gaspar, who finished 25th in the main tournament and also participated in the mixed doubles side event, which raised over 1000€ for breast cancer awareness.
This was the most well attended edition of the French Open by Predator to date, with over 100 players from across Europe registering to take part. Details about the 5th edition will be published in spring 2018.
THE FRENCH OPEN

EVENT HISTORY

THE WINNER'S LIST

2014

Karl Boyes R.Up Vincent Facquet (FRANCE)

GBR

2015

Imran Majid R.Up Marc Bijsterbosch (NED)

GBR

2016

Imran Majid R.Up Marc Bijsterbosch (NED)

GBR

2017

Niels Feijen R.Up Stephan Cohen (FRANCE)

NED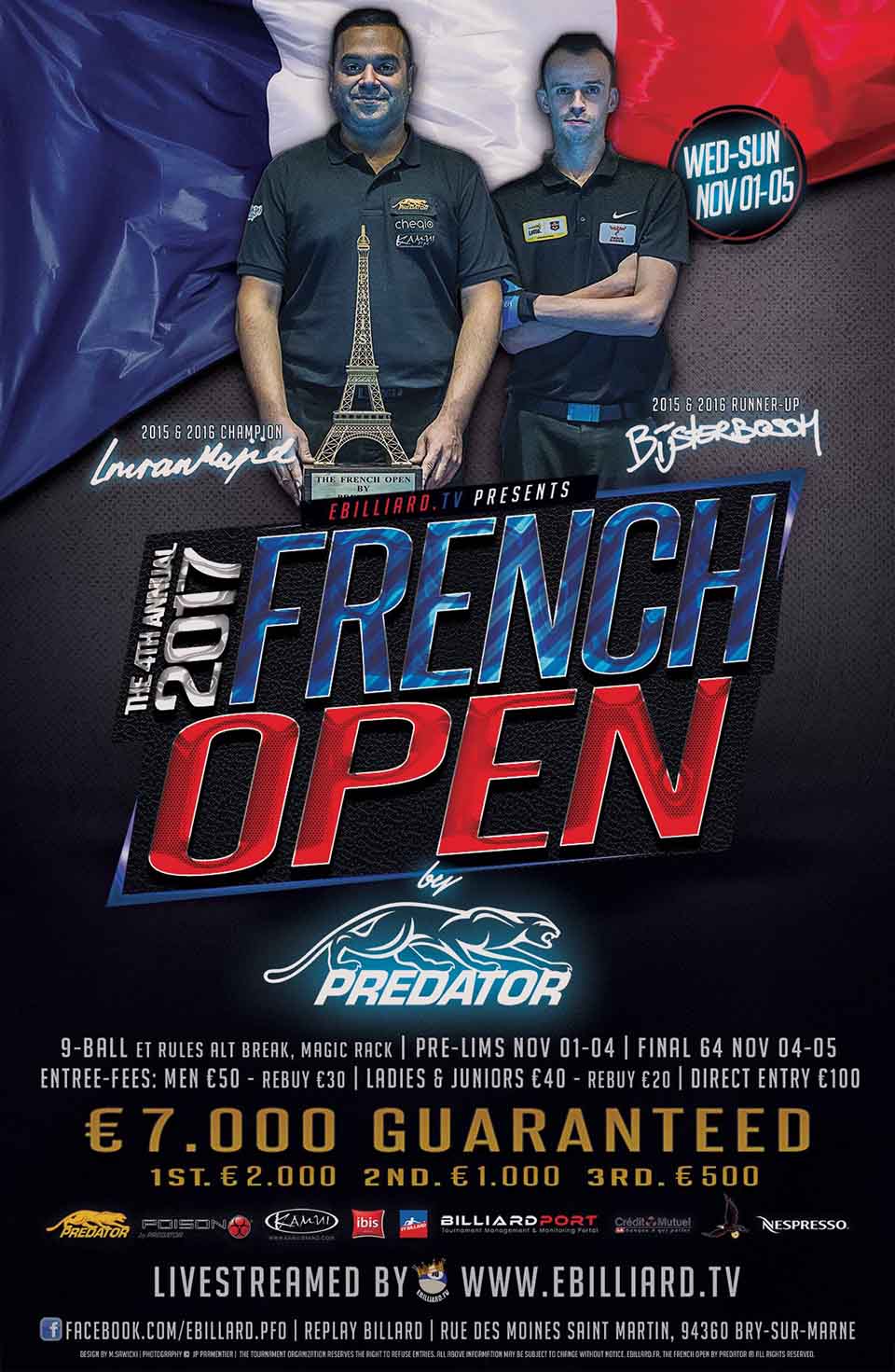 Click the image to view the full size poster (use "back" to return here)
Enjoy the article? Now try this...
View Pro9's front page!
Chat about this article in our forums.
Visit The Pro Shop to see new cues and gadgets.
Check out the Pro9.co.uk calendar for details of more events.