McDermott Handcrafted Cues
N84 W13660 Leon Rd
Menomonee Falls
WI 53051
USA
www.mcdermottcue.com
Tuesday 28 June 2017
View the full range of McDermott Carom Cues here!
Click the image to view the full size image (use "back" to return here)
Click here to view the new product range
McDermott Releases Carom Cue Line
McDermott Cue Mfg., LLC, a leading manufacturer and worldwide distributor of billiards cues and products, has recently announced the release of a new line of cues designed especially for carom.
The new line features over 60 popular McDermott cue designs that have been tailored to meet the specifications for carom. This includes the cue being two inches shorter, a smaller tip diameter and a straight taper. Competitively priced starting at $285, these cues are made in the USA and are built to meet the same superior quality standards that customers have come to expect from McDermott. Many of the new cues feature McDermott's high-performance G-Core and i-Shafts.
McDermott has been producing high-quality pool cues in Menomonee Falls, Wisconsin since 1975. "McDermott employs some of the finest engineers and craftsmen to produce our products. As we have seen the game of carom grow in popularity over the past few years, we believe it is important that we provide quality cue options to carom players worldwide," said Greg Knight, owner of McDermott Cue.
Mazin Shooni, President of the US Billiards Association (USBA) and professional carom player, is excited to see McDermott step into his favorite game of carom, not only with the additional line of carom cues, but also with their sponsorship of the USBA. "With McDermott's expansion into carom cues, more players will be drawn to the game and it will grow both in quality of equipment and expertise of players," said Shooni.
McDermott's carom cues are available for purchase on McDermott's website at
www.mcdermottcue.com/carom
.

Share this article on FaceBook
"Read More..." for the details.
McDermott Cue is headquartered in Menomonee Falls, WI and markets under the brands of McDermott Cue, Star Cue, Lucky Cue, Wildfire, i-Shafts, G-Core Shafts, Sledgehammer Break Cues and Stinger Break/Jump Cues.
For more information about this press release, contact McDermott's Creative Director, Derek Blaguski, at
derekb@mcdermottcue.com
or call 1-800-666-2283. More information can be found at
www.mcdermottcue.com
.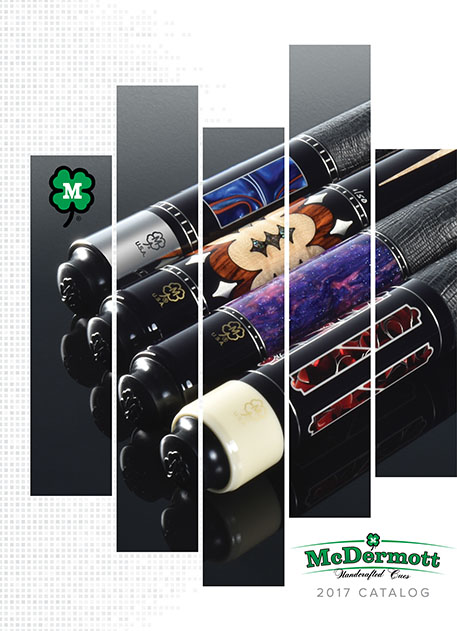 Click the image to view the full size image (use "back" to return here)
Click here to view the new catalogue
Enjoy the article? Now try this...
View Pro9's front page!
Chat about this article in our forums.
Visit The Pro Shop to see new cues and gadgets.
Check out the Pro9.co.uk calendar for details of more events.