EQUAL CHANCE - SPECIAL FUND RAISING CHARITY EVENT
EQUAL CHANCE POKER CLUB
74-78 St. James's Street
Walthamstow
London
E17 7PE
Tel: 020 8521 2121
www.equalchance.co.uk
info@equalchance.co.uk
Saturday 14 January 2012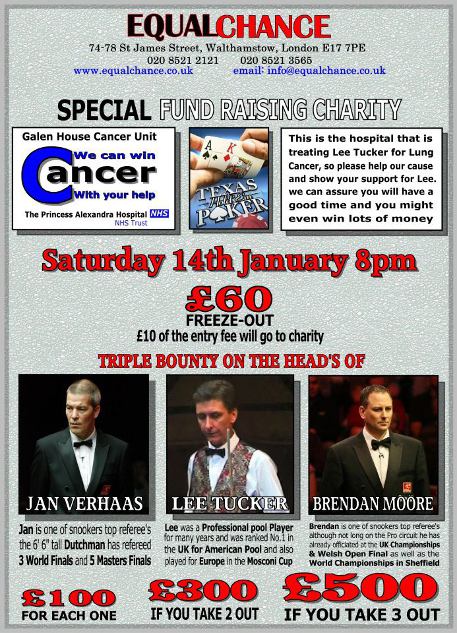 Click the image to view the larger poster - use "back" to return here.
Knock out the cuesports celebrities to earn a handsome bounty!
My apologies if, like me, you didn't know that former Team Europe Mosconi Cup player Lee Tucker was recently diagnosed with lung cancer. I'm sure this bad news will come as quite a shock. Unfortunately, the small cell cancer that Lee has is incurable, but he has responded well to several rounds of intensive chemotherapy, and is responding as well as his consultant has hoped, and he is certainly capable of giving you a really "bad beat" if you fancy your chances at this charity poker tournament being held at Equal Chance in London tonight.
Sorry about the late notice, but if you're in town and at a loose end, and fancy earning a bounty for knocking out the celebrity cuesports stars in attendance, get on down to Walthamstow - £10 from every entry fee goes to the hospital that treated Lee and the club sounds like it's got something for everyone too, from Poker to Chess, Scrabble to Kalooki... Even pool tables!

Share this article on FaceBook
"Read More..." for the details.
Enjoy the article? Now try this...
View Pro9's front page!
Chat about this article in our forums.
Visit The Pro Shop to see new cues and gadgets.
Check out the Pro9.co.uk calendar for details of more events.