US Open 9 Ball Qualifier 2010
Reardons Central
American Pool and Snooker Centre
24 Hope Street
Glasgow
Tel: 0141 221 4646
www.scottish9ball.com
www.reardonsnookerandpool.com
www.usopen9ballchampionships.com
4 July 2010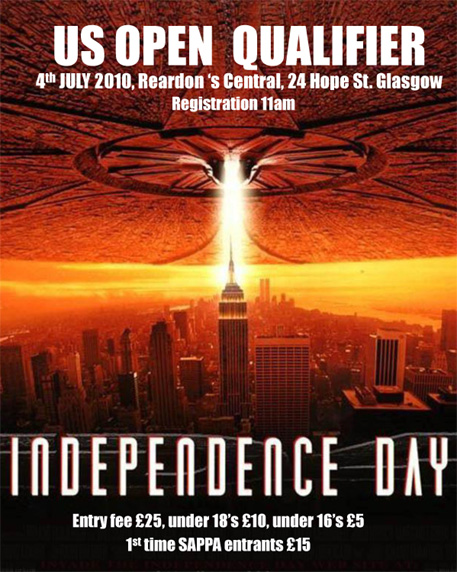 Click the picture to view the full size poster, use your "back" button to return here.
US Open 9 Ball Qualifier 2010
SAPPA are proud to announce the 2010 US Open Qualifier will be taking place at Reardon's Central, Hope Street, Glasgow on Sunday 4th July - American Independence Day.
Complete details will be announced in the coming days but here is what you need to know just now.
Registration will be from 11am with play due to start at 11:30am. The event will be winner breaks and an open draw, Double Elimination to the last 16 followed by Single Elimination to find the winner. That player will then be entered into the 2010 US Open 9-Ball Championships taking place in Chesapeake, Virginia from 17 to 23 October 2010.
"Read More..." for the details.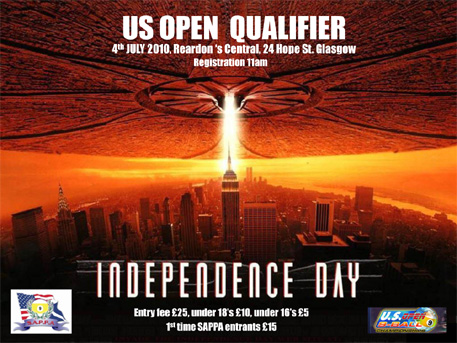 US Open 9-Ball Championships
Chesapeake Conference Center
900 Greenbrier Circle
Chesapeake
Virginia
USA
Entry to SAPPA players will be £25. In an attempt to increase interest in American Pool, we will also be allowing under 16s to enter for £5, under 18s for £10 and anyone over 18 who has not played in a SAPPA event before to play for £15.( committee have the right to refuse the £15 reduced entry fee if the entrant is deemed to be a 'pro player' )
Complete details will be posted in the coming days. We look forward to seeing you all at the start of July.
Please register your interest at
edinburgh9ball@hotmail.co.uk

Enjoy the article? Now try this...

Chat about this tournament in our forums.
Visit The Pro Shop to see what's new in cues and gadgets.
Check out the Pro9.co.uk calendar for details of more events.