World Ladies Billiards & Snooker Association World Championship
Cambridge Snooker Centre
Coldhams Road
Cambridge
Cambridgeshire
CB1 3EW
Tel: 01223 249 661
www.worldladiessnooker.co.uk
Wednesday 7 April 2010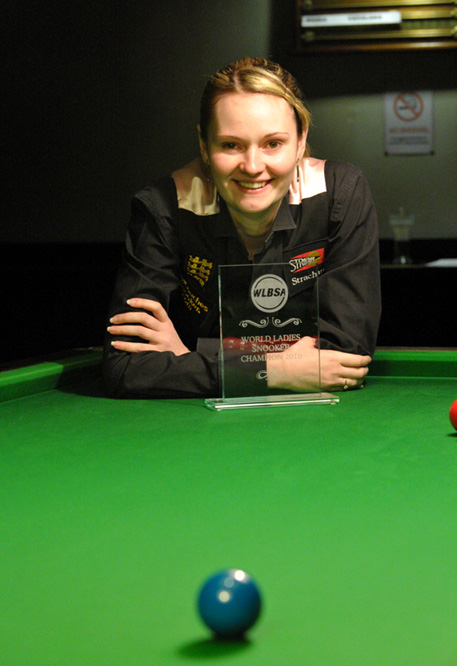 Reanne Evans - World Ladies Snooker Champion 2010
Pictures by Monique Limbos
Reanne's joy of six
REANNE Evans has again raised the bar in women's snooker by winning the world title for a record sixth year running (on Wednesday, April 7).
The undisputed world number one racked up six breaks of more than 40 in a 5-1 demolition of good friend Maria Catalano in the final at Cambridge Snooker Centre.
In a blistering display of break building, after losing the first frame, Evans compiled runs of 56, 45, 69, 52, 45 and 62.
It is now 61 matches since the 24-year-old mother-of-one, from Dudley, West Midlands , last tasted defeat on the World Ladies Billiards & Snooker Association circuit.
"Read More..." for further details!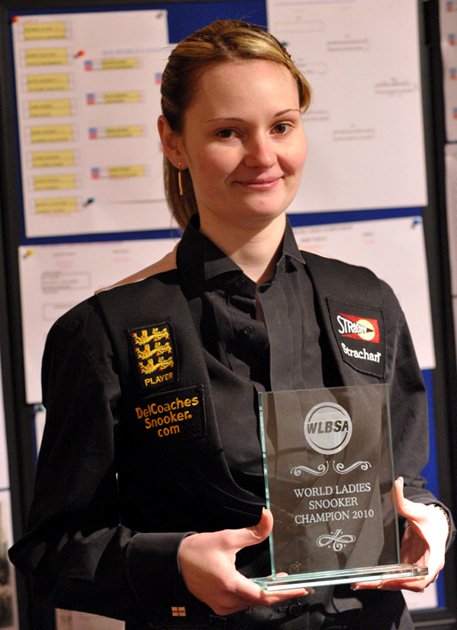 Reanne Evans 2010
Pictures by Monique Limbos
This season she has won all six ranking events and the Wytech Masters.
She collected £1,000, courtesy of sponsor Paul Wood, for clinching her 23rd ranking title.
"It's the most I've ever won for winning a tournament," said Evans.
"It's brilliant. Doing the clean sweep has put the icing on the cake.
"It's going to take some beating by whoever comes up in the future. Hopefully, I've set the bar high enough.
"In the first frame I was all over the place. I knew I was cueing well so I calmed down a bit and it worked.
"Maria's playing better and cueing a lot sweeter but she missed a couple to let me in.
"That's what you get from playing men. You get punished all day long so you learn from that. You don't want to keep picking balls out so you try and punish them when they miss."
Evans believes the top of the women's game is now like that, with players such as Catalano, June Banks, Katie Henrick and Emma Bonney.
And she picked out ten-year-old rising star Jasmine Bolsover as the possible heir to her throne.
"Jasmine looks brilliant. She's probably going to be the one to take over. And, obviously, you've got Hannah (Jones) as well.
"I'll walk before she starts making 50s," she laughed.
In the semi-finals, world number four Henrick, 29, came close to finally breaking Evans' remarkable run.
However, Evans fought back from 2-0 and 3-2 down, and wrapped up the decider with a 78.
"She played really well," said Evans. "In the first three frames, I didn't really see a ball. It was the best I've seen her play."
Despite the Henrick onslaught, Evans insisted defeat never crossed her mind.
"You've still got to believe you can win," she said. "You've got more confidence than anyone else but there's also more pressure on you.
"Everybody wants you to lose; they're all trying their hardest to beat you. You've just got to maintain that standard."
The newly crowned champion is planning to spend the prize money on a holiday in Ibiza with three-year-old daughter Lauren.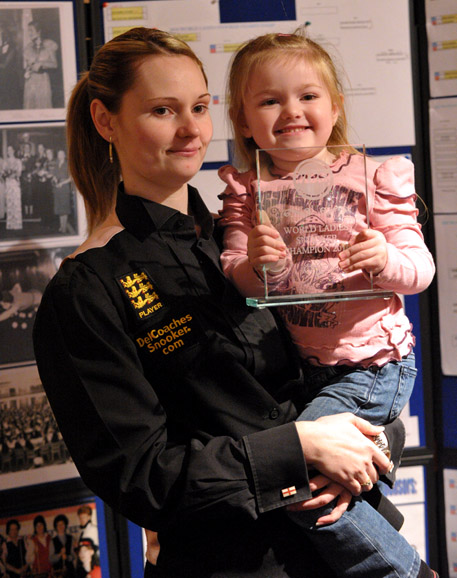 Reanne Evans & daughter Lauren 2010
Pictures by Monique Limbos
Round-robin group stages (Q = qualified for the last-16)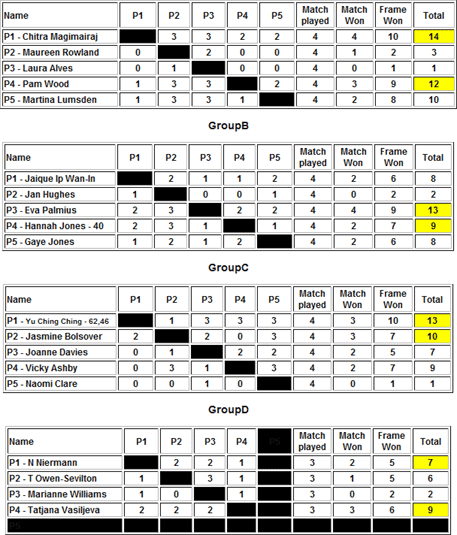 ROUND ROBIN (Breaks)
Yu Ching Ching: 62, 46.
Hannah Jones: 40
Eva Palmius: 35
Chitra Magimairaj: 32
KNOCKOUT (Breaks)
LAST-16: Reanne Evans (53) beat Natascha Niermann 3-0, Chitra Magimairaj beat Jenny Poulter 3-0, Katie Henrick (67) beat Tatjana Vasiljeva (37) 3-1, June Banks beat Pam Wood 3-0, Emma Bonney (44) beat Jasmine Bolsover 3-0, Yu Ching Ching beat Chris Sharpe 3-1, Suzie Opacic beat Eva Palmius 3-2, Maria Catalano ( 48 ) beat Hannah Jones 3-0.
QUARTER-FINALS (£150): Evans beat Magimairaj 4-0, Henrick beat Banks 4-3, Bonney beat Yu 4-1, Catalano (61, 56, 37, 36, 31) beat Opacic 4-1.
SEMI-FINALS (£250): Evans (78 ) beat Henrick (49, 42) 4-3, Catalano (37, 32) beat Bonney (35) 4-2.
FINAL (£1,000/£500): Evans beat Catalano 5-1.
Frame scores, Evans first: 6-67, 101(56, 45)-6, 74(69)-24, 70(52)-32, 70(45)-51, 95(62)-27.
Referee: Vic Hartley.
PLATE
TATJANA Vasiljeva, Latvia 's number one woman player, clinched the Plate trophy at her first WLBSA world championships.
Vasiljeva, 26, who is coached twice a year by Terry Griffiths in Wales , defeated Vicky Ashby 2-0 in the final.
"He's a great coach," she said. "I like Britain so much."
RESULTS (breaks):
ROUND 1: Marianne Williams beat Maureen Rowland 2-0, Martina Lumsden beat Jan Hughes 2-0, Gaye Jones beat Naomi Clare 2-0, Vicky Ashby beat Joanne Davies 2-1, Jaique Ip Wan In beat Tina Owen-Sevilton 2-1.
ROUND 2: Lumsden beat Natascha Niermann 2-0, Williams beat Hannah Jones 2-1, Ashby beat Jenny Poulter 2-0, Chris Sharpe beat Gaye Jones 2-0, Ip Wan In beat Pam Wood 2-0, Jasmine Bolsover beat Laura Alves 2-1.
QUARTER-FINALS: Ip Wan In beat Williams 2-1, Tatjana Vasiljeva beat Martina Lumsden 2-1, Ashby beat Bolsover 2-0, Sharpe beat Palmius 2-0.
SEMI-FINALS: Vasiljeva beat Ip Wan In 2-0, Ashby beat Sharpe 2-0.
FINAL: Vasiljeva beat Ashby 2-0.
JUNIORS
PRE-tournament favourite Hannah Jones lived up to her billing by claiming the World Ladies Junior title for the third year running.
The Derby schoolgirl, 13, defeated ten-year-old Jasmine Bolsover, from Woking , 2-0 in the final.
Jones said: "I was very pleased to win it. Before the match, I thought Jasmine was going to win because her potting was amazing.
"I played at a level higher because I was determined to win."
RESULTS
ROUND-ROBIN: Hannah Jones beat Jasmine Bolsover 2-0, Joanne Davies beat Naomi Clare 2-1, Jones beat Davies 2-0, Bolsover beat Clare 2-0, Bolsover beat Davies 2-1, Jones beat Clare 2-0.
FINAL: Jones beat Bolsover 2-0.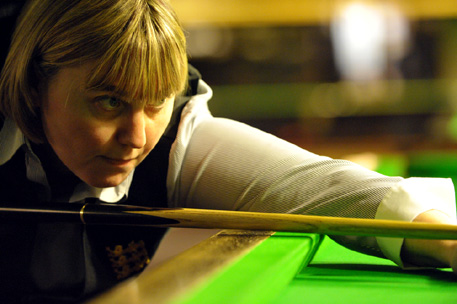 June Banks
Pictures by Monique Limbos
SENIORS (aged 40 and over)
JUNE Banks, making her first appearance on the WLBSA circuit this season due to work commitments, defeated Eva Palmius 3-1 to retain the World Ladies Seniors title.
Banks, 41, from Orpington , Kent , who had slipped to 14th in the rankings, climbs three places to 11th.
RESULTS
PRELIMS: Jan Hughes beat Laura Alves 3-0, Pam Wood beat Maureen Rowland 3-1.
QUARTER-FINALS: Hughes beat Wood 3-2, June Banks beat Marianne Williams 3-1, Chris Sharpe beat Jenny Poulter 3-1, Eva Palmius beat Gaye Jones 3-0.
SEMI-FINALS: Banks beat Hughes 3-0, Palmius beat Sharpe 3-2.
FINAL: Banks beat Palmius 3-1.
MIXED DOUBLES
TATJANA Vasiljeva insisted world No 12 Joe Perry is "the best" after the pair claimed the Mixed Doubles trophy.
Vasiljeva and Perry edged past Pam Wood and Martin Gould 3-2 in a high-scoring final.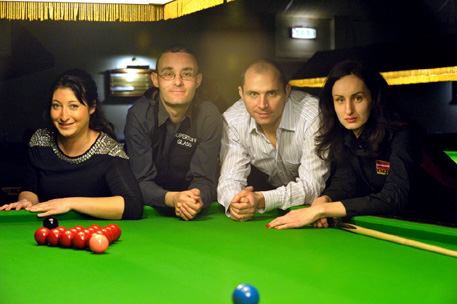 Mixed Doubles final line-up
Pictures by Monique Limbos
Leading 2-1 and on a break of 67, world No 46 Gould, who had compiled a 105 in the first frame, missed a long red for the match.
Perry replied with a 68 clearance to win by one point on the black - and he wrapped up the decider with a 62.
"We dodged a couple of bullets but we won the last one nice and easy," said Perry.
"We thought it was all over. Then you get a chance so you just try and grab it with both hands. I felt really relaxed and just knocked them in. You don't think too much about it; you just do what you've got to do."
Vasiljeva said: "I had huge pressure after the first frame when I made a bad safety shot and (Gould) made a 105 break."
And Perry, who vowed to return next year to defend the trophy, added: "The pressure for me is I don't want to let Tatjana down.
"We're worthy winners; we deserved it; we're a good team."
Wood and Gould knocked out defending champions Reanne Evans and Michael Holt in the last-four.
RESULTS (breaks)
QUARTER-FINALS: Pam Wood & Martin Gould (61, 55) beat Chris & Brian Sharpe 3-0, Tina Owen-Sevilton & Brian Harvey beat Natascha Niermann & Tim Dunkley 3-1.
SEMI-FINALS: Wood & Gould (67) beat Reanne Evans & Michael Holt 3-1, Tatjana Vasiljeva & Joe Perry (46) beat Owen-Sevilton & Harvey 3-0.
FINAL (£200/£100): Vasiljeva & Perry (68, 62) beat Wood & Gould (105, 42, 67) 3-2.
LADIES DOUBLES
BLUSHING bride Maureen Rowland capped her honeymoon by winning the World Ladies Doubles with Tatjana Vasiljeva.
Maureen Logan, as was, 'ran away' to Gretna Green with fiancé Dave Rowland, 55, two days before setting off for the women's world snooker championships.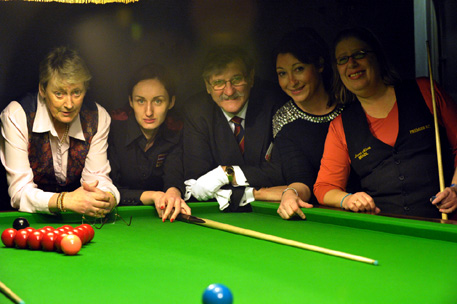 Ladies Doubles final line-up
Pictures by Monique Limbos
After being married in Gretna 's famous blacksmith's shop, the lovebirds honeymooned at Cambridge Snooker Centre.
Rowland, 56, from Wallsend, Tyne & Wear, lost three stones prior to the wedding.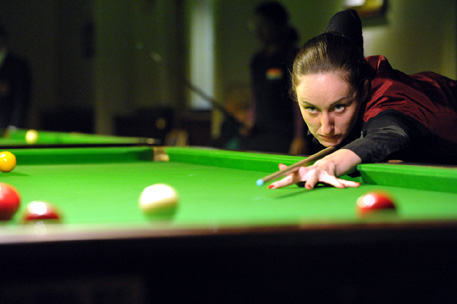 Tatjana Vasiljeva
Pictures by Monique Limbos
The 2-0 victory over Pam Wood and Laura Alves completed a hat-trick for Latvian Vasiljeva. The 26-year-old also won the Plate and the Mixed Doubles.
RESULT
FINAL: Tatjana Vasiljeva & Maureen Rowland beat Pam Wood & Laura Alves 2-0.
The 2010 WLBSA World Billiards Championship will be held on Thursday, April 8, starting at 11am, at:
Stadium Snooker Club
Hall Green Stadium
York Road
Hall Green
Birmingham
B28 8LQ
Tel: 08708 407380
CAMBRIDGE DIARY

Pam Wood's missing cue
A FRANTIC three-day search for her beloved Cedric ruined world No 21 Pam Wood's build-up to the women's world snooker championships.
The 41-year-old from Newcastle left her favourite cue, nicknamed Cedric, leaning against the boot of her car as she left her local club – and then drove off.
One hour before catching the train to Cambridge , Wood received a phone call from the club saying it had been handed in.
Referees v Ladies match
LADIES captain Jan Hughes is being forced to send out for fresh supplies of wooden spoons.
For the third year running, the ladies took on a team of referees after the first day's round-robin matches. And for the third year running, Hughes presented a wooden spoon to referees captain Colin Selby after a 683-545 aggregate points victory.
Selby admitted: "We were stuffed."
Dressed to kill (and guess who's dying)
NATASCHA Niermann was dressed to kill for the mixed pairs. And a former professional is in her firing line.
Wearing a short skirt (a size too small), red stockings and high-heeled black boots, Niermann was less than impressed when she was stood up minutes before the event kicked off.
And the eight-time German national champion was distinctly underwhelmed when the WLBSA's press officer was offered up as a replacement.
Martin Gould's trick shot
STORIES circulate about this shot but few people have actually witnessed it.
In the third frame of the Mixed Doubles final, Middlesex professional Martin Gould slammed a red towards the left-hand top corner pocket.
It hit the jaws, jumped onto the top of the cushion, rolled along the rail and fell into the middle pocket.
Youngest qualifier
AT the tender age of ten years and 110 days, Woking 's pint-sized potter Jasmine Bolsover beat Yu Ching Ching to become the youngest to qualify for the knockout stage of a women's world championship.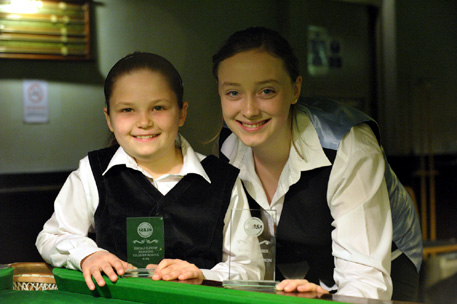 Jasmine Bolsover (left) & Hannah Jones
Pictures by Monique Limbos
Enjoy the article? Now try this...

Design and buy your dream snooker cue!
Visit The Pro Shop to see what's new in cues and gadgets.
Check out the Pro9.co.uk calendar for details of more events.