THE LEGENDS CHALLENGERileys : Bar - Pool - Snooker - Darts
Brighton, Cardiff, Croydon, Edinburgh, Gillingham,
Hull, Liverpool (Bootle),Manchester (Chorlton), Norwich,
Oxford, Solihull, Wolverhampton, and Worcester
Web:
www.rileys.co.uk
Email:
darts@rileys.co.uk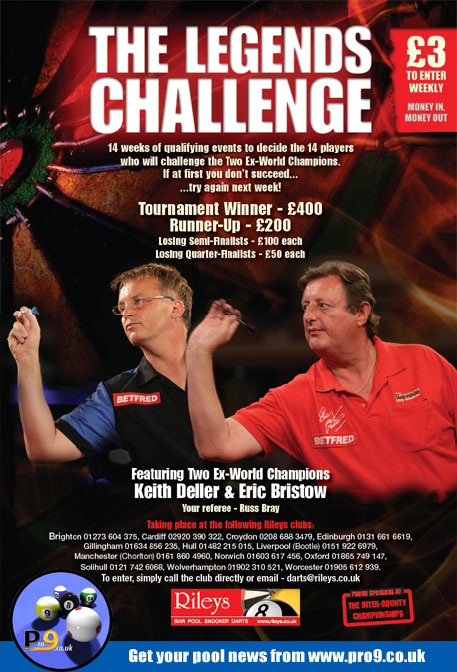 Click the image to view larger poster (use "back" to return here).
Fancy your chances against 2 darts legends?
Here's your chance to take on former world darts champs Eric Bristow and Keith Deller - and win £400!
Rileys is offering darts players the chance to take on two legends of the game at one of 13 locations throughout the UK. Each Rileys clubs with a darts zone is hosting a tournament per week for 14 weeks and each weekly winner will join Eric Bristow and Keith Deller in a grand final to compete for a cash prize.
It's a simple knockout tournament with a best of five, 501 format. Entry is just £3 per event with all entry fees awarded as prize money.
In the grand final, the weekly winners will be joined by the legends to play in a 16 man knockout tournament with a £1000 prize pot and £400 to the winner.
Read More..." for the details.
Keith 'The Fella' Deller - world champion in 1983 - said: "What Rileys are doing with their Darts Zones is really fantastic for our game. The Zones are brilliant. I wish we'd had facilities like this to practice at back in the good old 80s!"
If you fancy taking on Keith Deller and Eric Bristow - five-times world champion between 1980 and 1986 - just go down and register at a participating Rileys or email your name, telephone number and the club you wish to play at, to
darts@rileys.co.uk
.
Here's the full list of the clubs and dates for your diary.



THE LEGENDS CHALLENGE SCHEDULE

Club
Day
Start Date
Grand Final
Croydon, Purley Way
Tuesday
19 January 2010
27 April 2010
Edinburgh
Wednesday
27 January 2010
5 May 2010
Brighton
Friday
29 January 2010
7 May 2010
Oxford
Sunday
31 January 2010
9 May 2010
Woverhampton
Monday
1 February 2010
10 May 2010
Hull
Wednesday
3 February 2010
12 May 2010
Solihull
Monday
15 February 2010
9 May 2010
Worcester
Tuesday
16 February 2010
25 May 2010
Cardiff
Thursday
18 February 2010
27 May 2010
Bootle
Wednesday
3 March 2010
9 June 2010
Gillingham
Thursday
4 March 2010
10 June 2010
Norwich
Friday
5 March 2010
11 June 2010
Chorlton
Thursday
11 March 2010
17 June 2010

-