2009 PartyPoker.net Mosconi Cup
Studio Ballroom
MGM Grand
3799 Las Vegas Boulevard South
Las Vegas
Nevada
USA
www.matchroompool.com
10-13 December 2009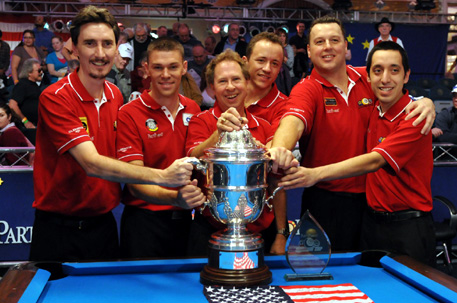 All photographs courtesy of JP Parmentier / Matchroom Sport
Europe 7 : 11 USA – Hatch MVP in Storming Sunday
TEAM USA have won the PartyPoker.net Mosconi Cup outright for the first time since 2005 as they took the required two points on Sunday to defeat defending champions Europe by a four point margin.
A win for Dennis Hatch, who took 'Most Valuable Player' honours as the winning team's biggest point scorer, took the team to the hill and then Shane Van Boening snatched the trophy clincher as he defeated Ralf Souquet.
It was a proud moment for American captain Nick Varner after last year's disastrous trip to Malta; "This has been the best five days of my life and they all just played so well and I'm so proud of them," he said.
"I feel really good and I think I'm going to be like Dennis and probably start crying. The whole team - Dennis, Johnny, Corey, Oscar and Shane - have played so well and I am so happy."
Making his Mosconi Cup debut, Buffalo-based Hatch was the star of the show throughout as his ebullient presence from start to finish as well as his outstanding play, drove his side on.
Clutching his glass MVP Award, a tearful Hatch said, "I can't explain how I feel; this is the best moment of my life.
"I want to thank all the fans for being here and if it was not for those guys we wouldn't have won. It's the best feeling I've ever had and this team is just amazing.
"Read More..." for the details.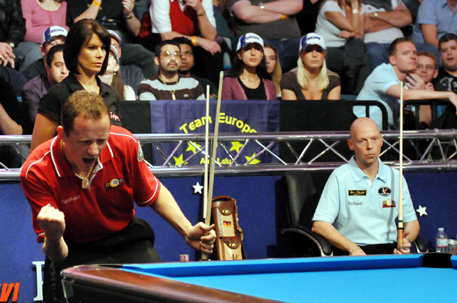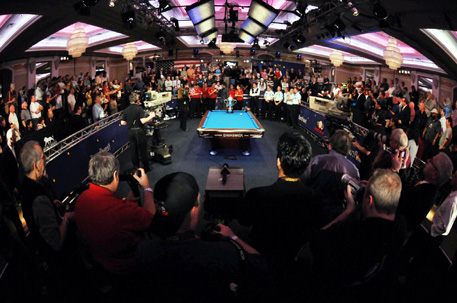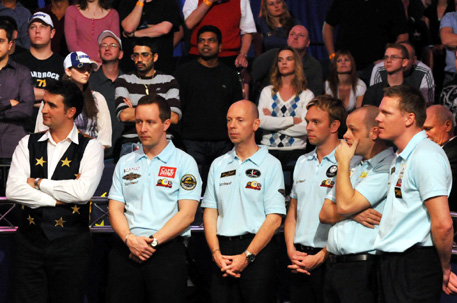 "Nothing can compare to this. I'm already thinking about the Turning Stone Classic which I have to play in three days but I won't care if I win or lose because it won't be as good as this. How can it compare to this?" he added.
For Europe it was a tough defeat after two consecutive victories; "We came here very motivated but from day one we felt we were swimming upstream," said Alex Lely.
"Today we got going but hats off the Americans, they played really well. Oscar and Dennis played really strong and the old schoolers did well and they deserved it.
"But I'm proud of my team. We've been swimming upstream and we had to fight for it and it didn't happen for us. But hanging around these guys is great and a lot of fun and we will be back next year in Europe."
Trailing 9-5 at the start of the day, Europe needed the biggest comeback in Mosconi Cup history to retain the trophy and Ralf Souquet was the reliable choice for skipper Alex Lely and he delivered a solid performance to defeat Shane Van Boening by 6-3.
Van Boening hasn't been at the top of his game at this year's event and Souquet had a little bit too much in all departments. He ended the match with a confident 3/9 combination to put his side within three of the Americans.
"It was very important for us to win. We were down 9-5 and with the US only two games away from victory so we went into today as playing a regular tournament," said Souquet.
"Even though it's still a double elimination where we can lose once, we want to win every match.
"The first one was very important and I'm really looking forward to every match. But we have to take it one step at a time and that was only the first step."
People's Champion Dennis Hatch, who was selected by a fan vote, took America to the brink of Mosconi Cup glory as he pounded Niels Feijen 6-0 to take the score 10-6.
As ever, Hatch was fired up as he strode into the arena and his aggressive play was too much for the Dutchman who suffered the first whitewash of the competition and his second reverse to the Hatchetman in two days.
"I've lived for this moment all my life. It's all about enjoying it while you're there, having fun and living the moment," said Hatch.
"No words can say how proud I am to win for my fans, my family and myself. It's just the best environment ever and the best player format I've seen in my life and I'm loving it.
"We couldn't have a better story for me to beat Niels 6-0 and then Johnny to beat Thorsten to win the cup."
It was not to be though as Thorsten Hohmann played a blinder as he upset Archer 6-1 to keep the Euro comeback dream alive. The American, who was undefeated up to this point, succumbed to Hohmann's doggedness as he played to keep his team in the competition.
That left it to Shane Van Boening to win his first Mosconi Cup in three attempts, as he reversed his earlier defeat to Ralf Souquet with a historic 6-2 victory.
'This is the third year I have been in it and I've lost the last two so there was no way I wanted to lose again," said Van Boening.
"Before that match with Ralf started I was thinking 'how the the devils playground did he beat me?' so I said to a friend that he is never going to beat me again.
"He had my number in the first match and I couldn't let him beat me again so I just put him away. I played perfectly in that match and didn't make a single mistake."
Making a record-equalling 13th appearance in the competition, veteran Johnny Archer put the disappointments of '08 behind him, and delivered a series of outstanding performances to help his team over the line.
"It's easy to say we've had a good time when you've won but the whole experience has been fantastic," said Archer.
"Losing the last two years wasn't an inspiration but we really wanted to redeem ourselves but I was just so excited to be on the first team without any negativity."
MOSCONI CUP 2009

DAY 1 - ORDER OF PLAY

First to 11 points

---

Team USA

6

5

Team EUROPE

Johnny ARCHER
Dennis HATCH

6

5

Niels FEIJEN
Darren APPLETON

Shane VAN BOENING

6

3

Mika IMMONEN

Corey DEUEL
Oscar DOMINGUEZ

6

2

Ralf SOUQUET
Thorsten HOHMANN

Captain's Pick - Oscar DOMINGUEZ

5

6

Ralf SOUQUET - Captain's Pick

---

Team USA

4

1

Team EUROPE

DAY 2 - ORDER OF PLAY

---

Shane VAN BOENING
Johnny ARCHER

6

2

Ralf SOUQUET
Niels FEIJEN

Corey DEUEL

4

6

Thorsten HOHMANN

Oscar DOMINGUEZ
Dennis HATCH

6

4

Mika IMMONEN
Darren APPLETON

Johnny ARCHER

6

5

Darren APPLETON

---

Team USA

7

2

Team EUROPE

DAY 3 - ORDER OF PLAY

---

Dennis HATCH
Corey DEUEL

1

6

Niels FEIJEN
Thorsten HOHMANN

Shane VAN BOENING
Oscar DOMINGUEZ

4

6

Ralf SOUQUET
Mika IMMONEN

Dennis HATCH

6

4

Niels Feijen

Johnny ARCHER
Corey DEUEL

6

5

Thorsten HOHMANN
Darren APPLETON

Oscar DOMINGUEZ

4

6

Mika IMMONEN

---

Team USA

9

5

Team EUROPE

DAY 4 - ORDER OF PLAY

---

Shane VAN BOENING

3

6

Ralf SOUQUET

Dennis HATCH

6

0

Niels FEIJEN

Johnny ARCHER

1

6

Thorsten HOHMANN

Shane VAN BOENING

6

2

Ralf SOUQUET

---

Team USA

11

7

Team EUROPE
---
DAY 3: 2009 PartyPoker.net Mosconi Cup - United States Hanging On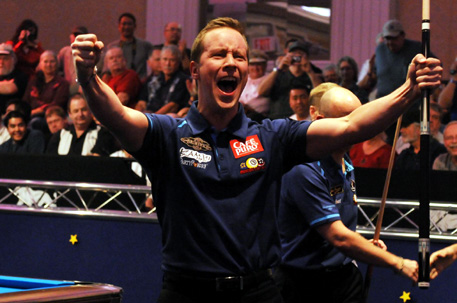 All photographs courtesy of JP Parmentier / Matchroom Sport
Europe 5 : 9 USA - Two More for the Win
TEAM USA need just two more points to lift the PartyPoker.net Mosconi Cup as they held off a comebacking European team at the MGM Grand, Las Vegas to lead by four points going into Sunday.
In dire straits at the outset, the Europeans won the first two matches to give their opponents the jitters, before Dennis Hatch stopped their momentum and then Johnny Archer and Corey Deuel increased the lead further.
Trailing 2-7 going into the third day, Europe found themselves in a position of having to win everything and the word behind the scenes was that they had a whole new approach after the disasters of the opening two days, and were brimming with confidence.
That manifested itself in the first match of the session as a focused Niels Feijen and Thorsten Hohmann looked a picture of determination as they took care of Hatch and Deuel by a 6-1 score line.
"We aren't going out without a fight. The Americans have shown some heart and played very well but we've had some bad rolls and that's why we were 7-2 down," said Hohmann.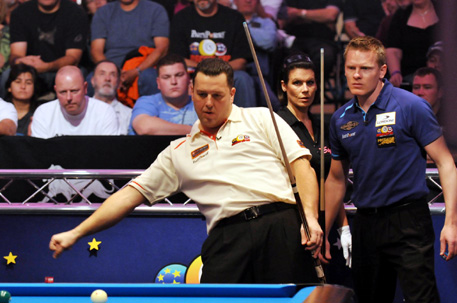 All photographs courtesy of JP Parmentier / Matchroom Sport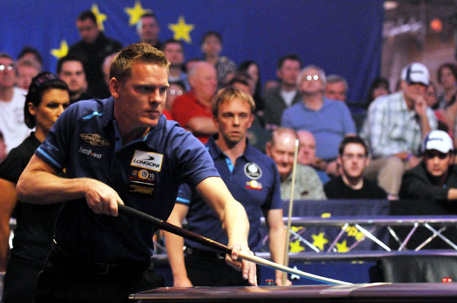 All photographs courtesy of JP Parmentier / Matchroom Sport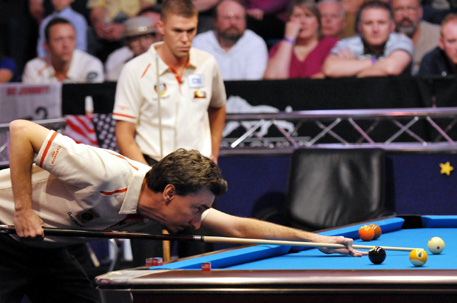 All photographs courtesy of JP Parmentier / Matchroom Sport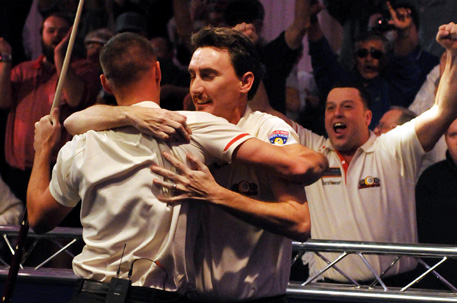 All photographs courtesy of JP Parmentier / Matchroom Sport
"But it's not over and we're a strong team and I think we can do it.
"As you look at each individual in our team we're all world champions but the US are probably the strongest team they've had. Maybe on paper we were the favourites but I knew America would be strong."
The score soon became 7-4 to the USA as Mika Immonen held his nerve alongside Ralf Souquet to defeat Shane Van Boening and Oscar Dominguez by 6-4.
Immonen, who looked out of sorts over the first two days, admitted that he was a little jet lagged, but his partner kept on him throughout and they were too strong for their opponents.
Immonen checked himself as he played the final 8 ball and his relief was palpable as he made it and left an easy 9 ball for Souquet.
"I haven't played great as I've been struggling with flu and jet lag so I'm trying to get it back but I'm still not 100 per cent," said a relieved Immonen to Sky Sports Andy Goldstein.
"When I'm nervous I feel extra nervous and with that last 8-ball I was just trying to hold it together and I didn't hit it that well.
"I felt like my heart was going to jump out of my chest. In practise I make it 1,000 times out of 1,000 but this is the Mosconi Cup.
"Now we've got some momentum and we're feeling stronger. We changed our strategy a bit trying to get the crowd more pumped up and we're getting more pumped up.
If the PartyPoker.net Mosconi Cup is all about momentum, then Dennis Hatch proved he was a big man for a big job as he derailed the European train, winning 6-4 against Niels Feijen.
A focused and intense Feijen tore into an early 4-2 lead as Hatch looked a little uncomfortable in what was a potentially overwhelming atmosphere.
However, a positive Hatch capitalised on some Feijen errors and slowly the tide turned. The crowd could sense it and Hatch fed off their enthusiasm as they carried him over the line for a memorable comeback victory.
"He could've had me 5-1 and shooting the 9-ball and I would still think I had a chance - I never give up" said a red-eyed Hatch.
"If it wasn't for the crowd then this wouldn't be the same thing but they're on your back and you're on theirs so we carry each other.
"But I said to Johnny (Archer) that I would put us on the board and he said 'you're the man' so I had a ton of confidence.
"When he (Feijen) was shooting the 5-ball his hand was shaking and his whole arm was shaking and trembling so I figured he may dog it.
"I'm loving this; this is the best experience of my life, win or lose, and I can't say enough about this - I love it."
There was another big win in the next for the USA as Johnny Archer did a superb job as he put in another awesome performance and also coached his partner Corey Deuel through some tricky hairpins.
The Europeans gave it a go but Appleton is not enjoying the best Mosconi Cup debut and he made too many mistakes, giving the USA every opportunity.
Still, the match made it to hill hill before Archer pulled one out the bag to pot the 1 ball and from there a confident Archer and nervous Deuel negotiated the table to win the match and take the USA to 9-4.
The final match of the day saw Mika Immonen battle his fatigue to record a life-saving victory for Europe as he beat Oscar Dominguez 6-4 to leave Europe four points behind going into the last day.
It was an entertaining encounter which both players contributed to, but it was Immonen in the end who had too much for the plucky Dominguez.
"We needed this one just to keep a bit of a margin. Finally I was able to find my own pace and I had been a little bit weak earlier. We're just closing the gap and putting a little bit more pressure on them," said Immonen.
---
DAY 2: 2009 PartyPoker.net Mosconi Cup - United States Turn the Screws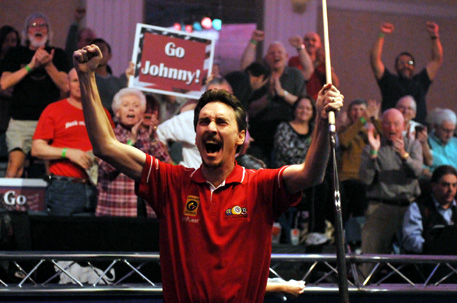 All photographs courtesy of JP Parmentier / Matchroom Sport
Europe Facing a Mountain
FOLLOWING ANOTHER series of dominating performances, Team USA seem set to regain the PartyPoker.net Mosconi Cup as they need just four more points to get their collective hands on the trophy for the first time since 2006.
Wins for Hatch and Dominguez and Archer and Van Boening in the doubles and then Archer again in the final singles match gave the capacity crowd something to cheer about and only Thorsten Hohmann had any success for Europe as he beat Deuel.
Archer's final win, coming from 1-5 down to beat Darren Appleton, was the killer blow;
"My heart skipped a few beats and it's tough to breathe. The Mosconi Cup brings a lot on to you.
"My crowd pulled me through, the crowd and my team mates. At 5-1 down all I could do was hope for mistakes and take it a ball at a time and maybe I could chip back. Then it was close and I got a shot to win it at the end.
"I do feel for other players and Darren is an awesome player and an awesome guy. He was putting his heart and soul into the match for his team. I've been there and made mistakes and it's hard to handle but he will come back from that I have no doubts.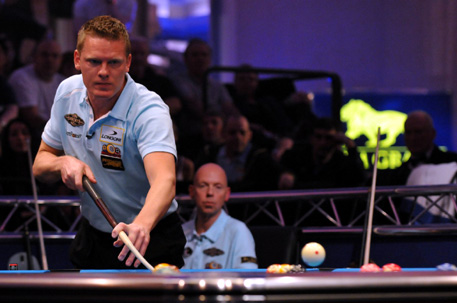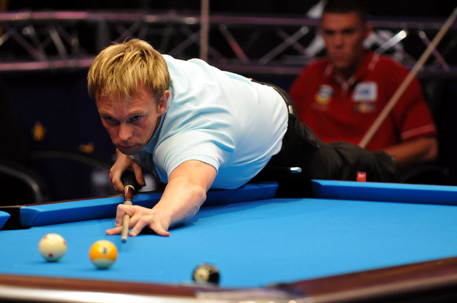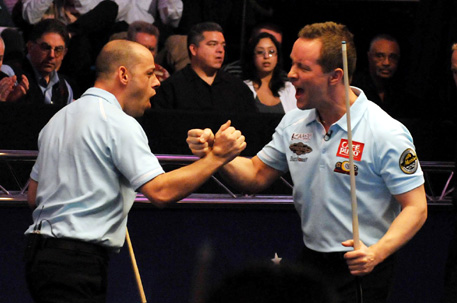 "I know we were ahead but if you lose, you lose the momentum and that's a big momentum shift back in our favour."
Earlier in the day, starting out with his 'dream pair' of Ralf Souquet and Niels Feijen, Euro skipper Alex Lely hoped to seize the early initiative but it back-fired once again as his men were outplayed by Shane Van Boening and Johnny Archer who recorded a 6-2 win.
It was a big victory, moving the score to 5-1 instead of 4-2 and afterwards Archer revealed the atmosphere in the American camp.
"We're meeting at 8.30am every morning, having a nice meeting, telling jokes, relaxing, practising for two hours and ready for action.
"So far, this is one of the best teams I've ever been in. We're all a team and all pulling and squeezing together. We're living and breathing with each other and that takes a lot of the pressure off as if they make a mistake then there's someone ready to pick them up."
Thorsten Hohmann relieved some of the pressure mounting on Team Europe as he dug deep to defeat Corey Deuel 6-4 and give Europe only their second point of the tournament.
The critical moment came in the ninth game with the match finely poised at 4-4. Deuel could only watch in horror as the cue ball vanished into the side pocket after a thin cut attempt on the 2-ball.
Hohmann finished the rack with a 4-9 combination and a dry break from Deuel sealed the Americans fate. The relief was clear for Hohmann as he pumped his fist at his cheering team mates.
The European fight back was short lived as Oscar Dominguez and Dennis Hatch took down Mika Immonen and Darren Appleton in a dramatic match to restore a four point lead for the USA.
The 38 year-old Hatch is emerging as the personality of the tournament with some stellar play as he wears his considerable heart on his sleeve. His chalk and cheese pairing with the diminutive Dominguez proved a perfect combination as they got the better of a fading European pair.
'The Hatchetman' played off the crowd and could barely contain himself as every rack went down. When the final 9 ball dropped, he made his way to the European corner and vented his fury at Alex Lely who he felt had insulted him earlier in the match when Hatch failed to notice that the requisite number of balls did not pass the headstring following his break.
"He (Lely) said 'one plus one' like I couldn't count after a break and that was just rude so I couldn't wait to get payback for that.
"This means more than anything in the world. The pressure is unbelievable, you're nervous, emotional and you have to hold the tears back.
"This is about playing for your country, your brothers and your fans. This is the most amazing thing I've ever done in my life - I love it."
Hatch broke down in tears mid-interview, his second tearful moment of the first two days and his blend of fire and emotion is proving hugely popular with the large American crowd.
The real kick in the teeth for the Europeans came in what was the final match of the session as Darren Appleton gave up a 5-1 lead to Johnny Archer as the overall score after two days moved to 7-2 in favour of the Europeans.
A 6-3 score line would have seen the Europeans in with some sort of chance but they now have a mountain to climb.
The Englishman seemed to be shrinking in his chair as Archer clawed the racks back and grew in strength with the crowd.
When the final 9 ball fell it was a killer blow for the European team and captain Alex Lely will have the job of his life to turn this situation around.
---
DAY 1: 2009 PartyPoker.net Mosconi Cup - US Storm to Early Lead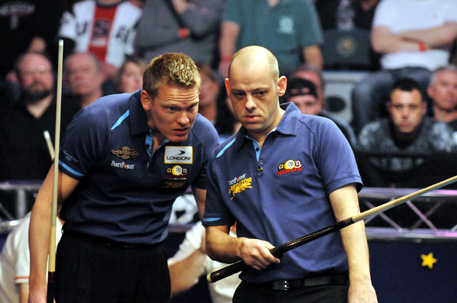 All photographs courtesy of JP Parmentier / Matchroom Sport
Only Souquet Averts Whitewash
TEAM USA enjoyed a magnificent first day at the 2009 PartyPoker.net Mosconi Cup as they won four of the five matches to leave the star-studded European team reeling and needing it all to do on Friday.
The team spirit that had driven the Europeans to successive wins in '07 and '08 seemed to be lacking and captain Alex Lely will have a job to do to ready his troops for action tomorrow.
Only Ralf Souquet, who sneaked past Oscar Dominguez in the final game of the day, recorded a point for Europe.
Lely may take heart though, from events two years ago at the same venue when the European team trailed by the same score line after day one but went on to record a famous victory.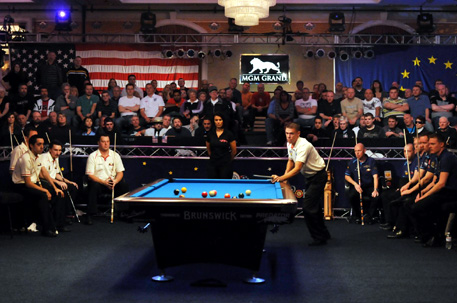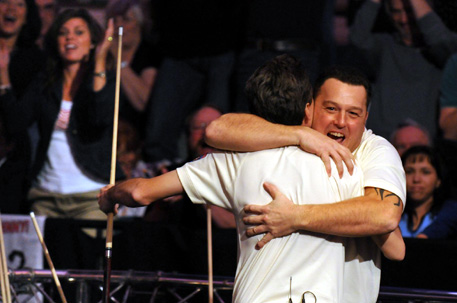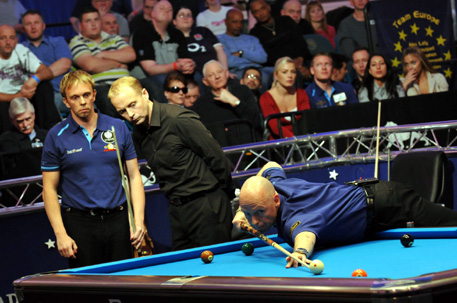 By contrast the American side looked in confident shape as rookie Dennis Hatch lead them out into the arena for the opening match and in a tense encounter, the USA got off to a dream start as they grabbed the opening point in the tournament's one and only team match where all ten players take part.
They sealed the victory in an action-packed tenth rack as Souquet fouled after a tight Van Boening tight safety. Sensing victory, Deuel missed a match-winning 3-9 combination before Appleton under hit a positional shot getting to the brown 7.
Souquet missed the subsequent pot and left the ball hanging. From there it was plain sailing as Van Boening dropped the first case 9 ball of the Mosconi Cup. The scoreline of 6-4 was all the sweeter as Team USA had trailed 3-1 in the early stages.
"This isn't like a normal tournament and I was nervous, which is something new for me," said Hatch.
"It's a completely different atmosphere and you're playing for your country and your team. Hopefully the first set jitters have gone so I can play well, but it's a dream come true to be at the Mosconi Cup.
"This win takes a lot of pressure off of us and puts a lot of pressure on the Europeans. We're the underdogs and have nothing to lose. If we do lose, we're expected to but we're just playing and want to have fun and enjoy ourselves."
Hatch's reading of the situation proved apposite and there was more joy for the big man from Buffalo in the second match of the day as he partnered the experienced Johnny Archer to a nerve jangling 6-5 win over the European pair of Niels Feijen and Darren Appleton.
Hatch, who looked to be settling in very nicely to his first Mosconi Cup and his steadfast partner moved themselves to the hill at 5-2 and looked good for the win. Europe though dug in and took the next three racks to set up a decider.
Europe's fight back was all in vain though, as a fine 7-8 combination from Archer put them on the way. Hatch got rid of the 8-ball and Archer took out the 9 to win the point for his team.
There was more joy for the packed house at the MGM Grand as Shane Van Boening upset World No.1 Mika Immonen to give the USA a marvellous 3-0 lead.
Coming off the back of his US Open and World 10 Ball wins and a stellar record at last year's event, Immonen was well placed to stop the rot but ran into a confident Van Boening who barely put a foot wrong.
The Finn looked a little out of kilter as a couple of mistakes saw Van Boening cash in and take the match 6-3.
Alex Lely put out the German pairing of Souquet and Hohmann next and trailing 3-0 a win was imperative. It didn't go that way though as rookie Oscar Dominguez partnered by the seasoned Corey Deuel, making his sixth Mosconi Cup appearance, took them to the cleaners for an excellent 6-2 win.
LA –based Dominguez had plenty of support in the crowd including his father Ernesto, himself a world-class cueist and the American pair looked all business as they won the last four racks for victory.
Dominguez, picked by Alex Lely to play the final match of the day (America's Varner plumped for Ralf Souquet), had a great chance to complete a whitewash for his team but missed a simple 4 ball in the final rack.
The dour German completed the run out to claim his team's first point of the Mosconi Cup and give them hope for tomorrow.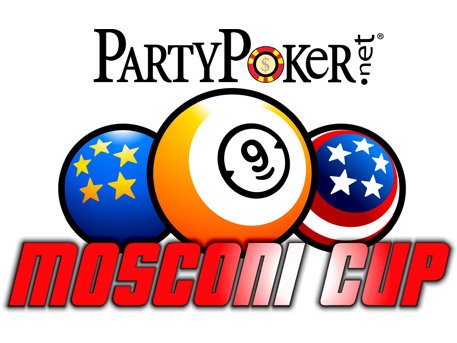 2009 PartyPoker.net Mosconi Cup
21 Matches - Race to 6 - Alternate Break - First Team to 11 Points

THURSDAY 10 DECEMBER 2009

Match 1 Team match (all 5 to play)
Match 2 Doubles match
Match 3 Singles match
Match 4 Doubles match (All players to have played once in Matches 2 - 4)
Match 5 Singles match (Cannot be the same player as Match 3)*



FRIDAY 11 DECEMBER 2009

Match 6 Doubles match
Match 7 Singles match (Cannot be the same player as Matches 3 and 5*
Match 8 Doubles match (All players to have played once in Matches 6 - 8 )
Match 9 Singles match (Cannot be the same player as Matches 3, 5 and 7)
Match 10 Doubles match



SATURDAY 12 DECEMBER 2009

Match 11 Doubles match (All players to have played once in Match 9 - 11)
Match 12 Singles match (Must be player who did not play in Matches 3,5,7 & 9)
Match 13 Doubles match
Match 14 Singles match
Match 15 Singles match (All players to have played once in matches 12 – 15)



SUNDAY 13 DECEMBER 2009

Match 16 Singles match
Match 17 Singles match
Match 18 Singles match
Match 19 Single match
Match 20 Singles match (All players to have played once in matches 16 – 20)
Match 21 *Singles match


The Captains may not use the same pair twice.

There are seven doubles matches and a possible 10 pairings.
There is a 30 second shot clock in operation at all times.
*This player is picked by the opponent's captain.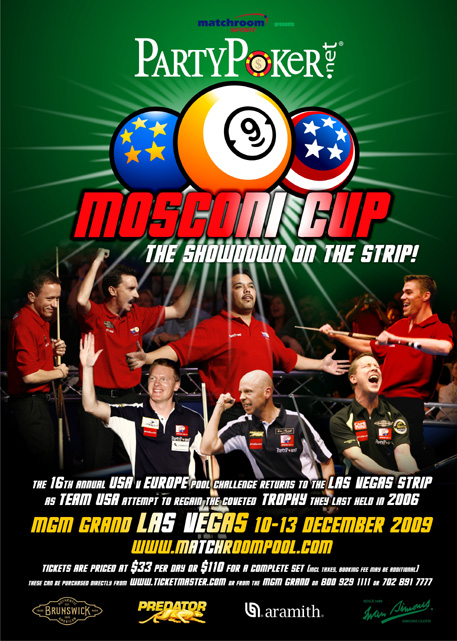 Live in its entirety on Sky Sports in the UK, the PartyPoker.net Mosconi Cup features two five-man teams representing Europe and the USA doing battle in a series of singles and doubles matches. Now in its 16th year, the Americans hold a 10-4 lead with one tied match in 2006.
Take a break... And have a bit of fun with Pro9's free pool game.