PartyPoker.net World Pool Masters 2009
Riviera Hotel & Casino
2901 Las Vegas Blvd, South
Las Vegas,
Nevada 8910909
USA
www.rivierahotel.com
www.playbca.com
www.worldpoolmasters.com
www.matchroomsport.com
www.partypoker.com
Friday-Sunday 8-10 May 2009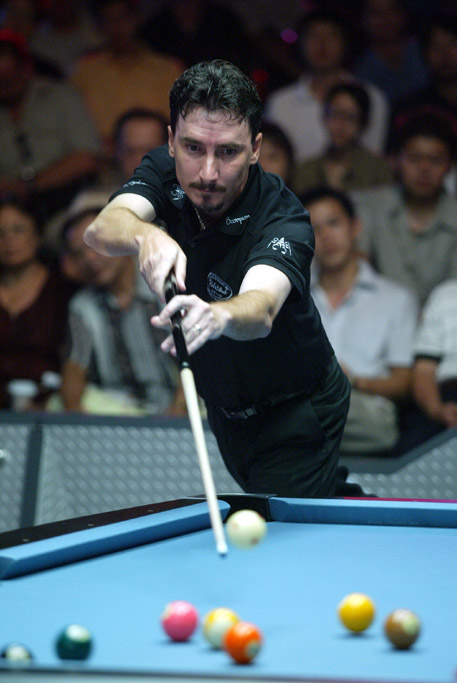 Archer is prepared for sharking this time...
With a long and highly decorated career going back to the late 1980's, Georgia's Johnny Archer can probably lay claim to being the most successful American pool player of the late 20th and early 21st centuries.
World Championships, Mosconi Cups, the US Open, along with countless other tournaments in all four corners of the globe are all on the Scorpion's roll call of honours and he dusts his cue down once again this week as he takes part in the PartyPoker.net World Pool Masters at the Riviera Hotel, Las Vegas from 8-10 May.
It is a venue that holds many good memories for Archer; "Oh yeah, I won the World 9 Ball Championship (PBT version) at the Riv in 1993 and beat Efren Reyes in the finals. That's a good one, and I also won the BCA 9-Ball and beat Mika Immonen 7 to 0 in the semi finals."

"Read More..." for the details.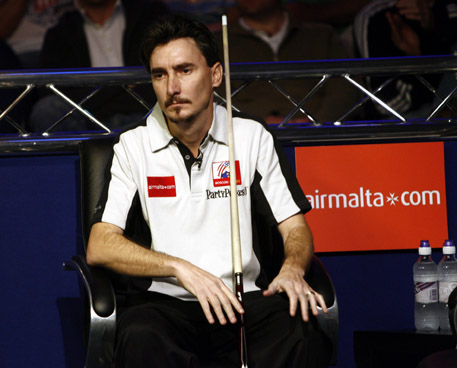 Archer is hoping that the Masters will add another classic moment to his Riviera memory bank this week and is hoping to hit his stride in time for his first round match on the evening of Friday 8th May.
"I'm playing about 85 percent at the moment, but I will be putting in a couple of days of serious practice before the Masters that should get me fine tuned and ready," said Archer.
"As far as practicing goes, I don't practice as many hours as I did but I have learned to get more out of my practice time, so more quality and less quantity. My motivation remains the same as it always has, I want to win and always be competitive."
Archer faces England's Imran Majid in his first round match and there's a little history going back to the 2006 Mosconi Cup, when US captain Archer's team mate Corey Deuel accused Majid of sharking his skipper in a live-on-TV outburst.
"Yeah, it seemed that every time I got down on my shot Imran was waving a white towel around. I thought he was surrendering already but I guess he was just sharking me," said Archer.
"This time if he does it again I will know to just run all over him even if he surrenders every shot. He's in trouble this time."
Majid aside, there is plenty of heavy duty talent in the Masters line-up, but Archer is confident; "Shane and Mika have been on a good run so they could be dangerous. However the guy who is really the one that all the players should be worried about is that Johnny Archer guy, I heard he ain't taking no prisoners at the Masters this year!"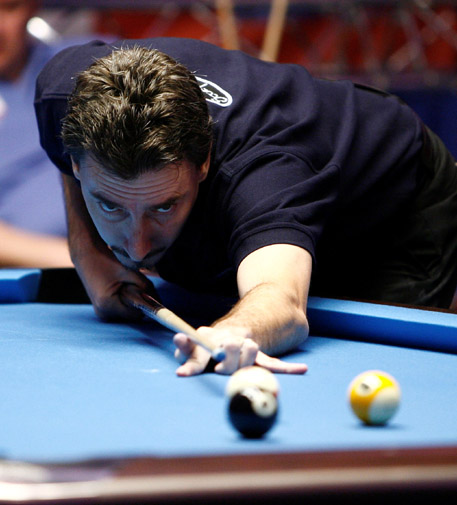 Out of the tournament loop, Archer spends a lot of his time on the innovative 'Legends and Champions Tour', initially with Earl Strickland and latterly with Nick Varner.
"As part of the Legends and Champions Pool Tour we hold pool schools and exhibitions. During the exhibition I play a mini challenge match race to seven against the local house pro or champion.
"This helps me to stay focused and competitive so all I need to get ready is to just work on a couple of areas if I think I need to. Also during the Legends and Champions pool school while giving our students advice that helps improve their game it also reminds me of some of the areas in my own game that I may have become less focused.
"And working so closely with Nick Varner and all his experience obviously helps mentally and on the table."
The Masters aside, Archer has one main ambition for 2009, to avenge Team USA's two consecutive defeats in the Mosconi Cup, something the Scorpion found hard to take; "It was devastating, there's no other way to put it in my personal opinion.
"We need to make some changes but I feel very confident for the 2009 Mosconi Cup in Las Vegas especially if we can keep Nick Varner as our Captain because all the players like and have a lot of respect for Nick and he really knows what he is doing.
"Matchroom consistently put on a great event every year that makes the Mosconi Cup exciting not only for the fans but for the players too. There is a lot of emotion and pride involved for all the players and that is why it was so hard to take."
Despite a mountain of achievements over the years, the 40 year-old Archer is still hungry and still looking to the future, " I would like to get another Player of the Year Award. Although we are almost half way through the year I still think there is time.
"Also I became eligible for the Hall Of Fame for the first time this year and obviously that would be a great honor.
"Every year I always have the goal of being selected to represent the USA as a Mosconi Cup team member as it is the most exciting event in the world of pool.
"As for the future, I would like to stay competitive and hopefully be able to do more things to help promote and give back to the sport that I love."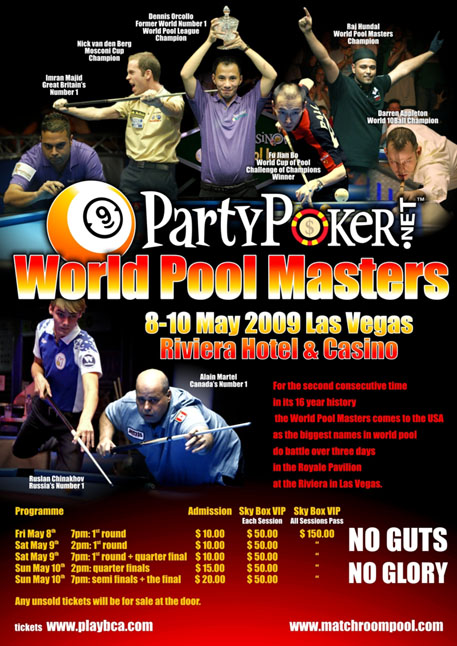 2009 PARTYPOKER.NET WOLRD POOL MASTERS 2009

THE LAST 16

Alex Pagulayan

0 : 0

Nick van den Berg

Johnny Archer

0 : 0

Imran Majid

Shane Van Boening

0 : 0

Yu Ram Cha

Niels Feijen

0 : 0

Tony Drago

Ralf Souquet

0 : 0

Ruslan Chinakov

Darren Appleton

0 : 0

Raj Hundal

Dennis Orcollo

0 : 0

Alain Martel

Mika Immonen

0 : 0

Fu Jianbo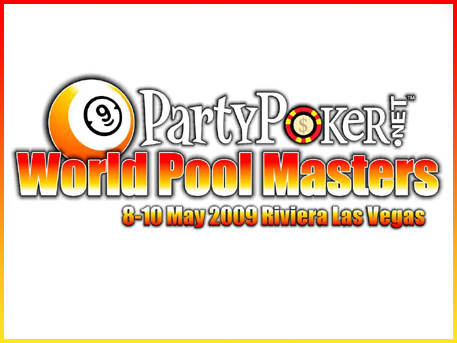 RELATED ARTICLES AT WWW.PRO9.CO.UK2009
2009 PartyPoker.net World Pool Masters - Johnny Archer interview!
2009 PartyPoker.net World Pool Masters - Shane Van Boening interview!
2009 PartyPoker.net World Pool Masters - Raj Hundal interview!
2009 PartyPoker.net World Pool Masters - Tickets available now!
2009 PartyPoker.net World Pool Masters - Draw and Schedule Announced!
2009 PartyPoker.net World Pool Masters - Back at the Riv!

2008
ALEX PAGULAYAN is the 2008 PartyPoker.net World Pool Masters Champion
Majid and Drago out - Immonen sole European in World Pool Masters
Majid, Immonen and Drago through at PartyPoker.net World Pool Masters
Engert, Muratore and Gray eliminated at PartyPoker.net World Pool Masters
PartyPoker.net World Pool Masters Site Starts Today
PartyPoker.net World Pool Masters 2008 - Draw announced
Final Names Added to Starting Line Up
2008 PartyPoker.net World Pool Masters Announced

2007
TV Schedules for the PartyPoker.net World Pool Masters 2007
PartyPoker.net World Pool Masters 2007
Challenge the Champions! Side Event - World Pool Masters 2007
WIN TICKETS AND HOTEL ACCOMMODATION!!!
WIN FREE TICKETS to the PartyPoker.net World Pool Masters
PartyPoker.net World Pool Masters - Tickets
Draw announced for PartyPoker.net World Pool Masters 2007
Players announced for 2007 World Pool Masters
Check out the Pro9.co.uk Calendar for more tournament dates.